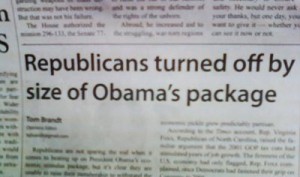 I don't care if you have to "ram it down their throats," as the Republicans are fond of saying:
The Senate Parliamentarian has ruled that President Barack Obama must sign Congress' original health care reform bill before the Senate can act on a companion reconciliation package, senior GOP sources said Thursday.

The Senate Parliamentarian's Office was responding to questions posed by the Republican leadership. The answers were provided verbally, sources said.
Two thoughts:
1.) Anyone who believes an anonymous GOP source needs their head examined. I'll need to see video of the Parliamentarian issuing this decree before I believe it.
2.) Even if it is true, whatever. Fire the parliamentarian- not like it will be unprecedented to do that. Or have Biden over rule him. Or find another way. Who cares, really? The Republicans have proven definitively that the only reason the rules exist is to provide cover for when these guys don't want to do something.
If the Democrats want to pass HCR, with the majorities they have, they will find a way. If they start whining about the Parliamentarian, it means they don't want to pass the bill. And if they don't pass the bill, I can't think of one reason for anyone to vote ever again for any Democrat who votes no on the bill. Even darling Dennis.