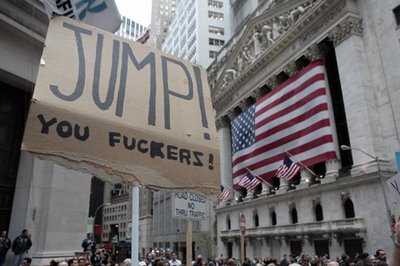 I know we are all riding pretty high after HCR passed, but it is going to be awesome watching the Dems blow this:
Almost seven out of 10 people surveyed support using current bank regulators for consumer protection, backing positions held by the financial industry and Republicans over President Barack Obama's proposal to establish an independent agency.

The poll's findings come as the White House and congressional Democrats pivot to focus more election-year attention on an unpopular political target — banks and Wall Street — following this week's victory on health-care legislation.

"Let's not paint all of Wall Street with the same brush, but there are those who really did tremendous harm to our economy," House Speaker Nancy Pelosi told reporters. "So now we will have a bill because we can't ever let this happen again to the American people."

As the country struggles with a 9.7 percent unemployment rate while financial stocks surge, 57 percent of Americans have a mostly unfavorable or very unfavorable view of Wall Street, versus fewer than one-quarter who have a favorable opinion. Banks are viewed badly by 54 percent of poll respondents, and 60 percent have a negative opinion of insurance companies.
The public hates the banksters- Democrats don't need to move to the right on regulation to attract Republican votes. They need to loudly and daily hammer the Republicans as "in bed with the banksters" until they move to join the Democrats.
Please, Democrats. Just give it a try.