Today is International Beer Day (the site was down last I checked so here's the wiki article). My favorite beer is Fat Tire. I like New Belgium both as a company and because they make lots of good brews. I also enjoy all the local breweries here, and going to local breweries when I'm on the road.
If you're a fan of craft beer and microbreweries as opposed to say Bud Light or Coors, you should say a little thank you to Jimmy Carter. Carter could very well be the hero of International Beer Day.
To make a long story short, prohibition led to the dismantling of many small breweries around the nation. When prohibition was lifted, government tightly regulated the market, and small scale producers were essentially shut out of the beer market altogether. Regulations imposed at the time greatly benefited the large beer makers. In 1979, Carter deregulated the beer industry, opening the market back up to craft brewers. As the chart below illustrates, this had a really amazing effect on the beer industry: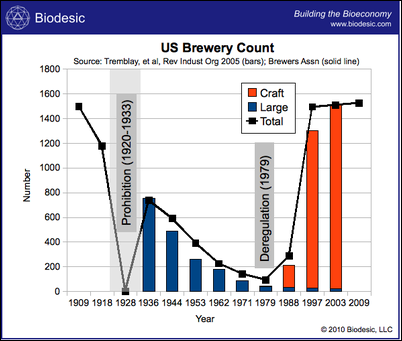 That's the number of large and small-scale breweries in the US. You can see how the large brewers continued to consolidate and grow and absorb more and more market share right up to the point where Carter deregulated the industry.
Obviously not all deregulation is going to work this way, nor are all matters of regulation as relatively unimportant as beer. But this is a good example of how regulation can crowd out small businesses and local economies in favor of big corporations with ties to powerful legislators. If anything, it should be a reminder that regulation in and of itself is pretty meaningless. While requiring offshore drilling rigs to be equipped with some form of safety mechanism to prevent massive oil spills makes a great deal of sense, many regulations are actually written by the special interests who stand to gain most from their implementation, either by gaining special legal perks or by crowding out competition.
Maybe instead of using regulation or deregulation as starting points, we should look at ways to create more transparency in Washington and more oversight of the regulators themselves. I'm not sure how to close the many revolving doors between industry and Washington, D.C. I'm not sure it's even possible. But when I talk about limiting government, this is partly what I mean – limiting the way that government and special interests (including powerful corporations) work together at the expense of the rest of the country.
*fixed the typo at the top
** ok NOW I fixed the typo (I hope)