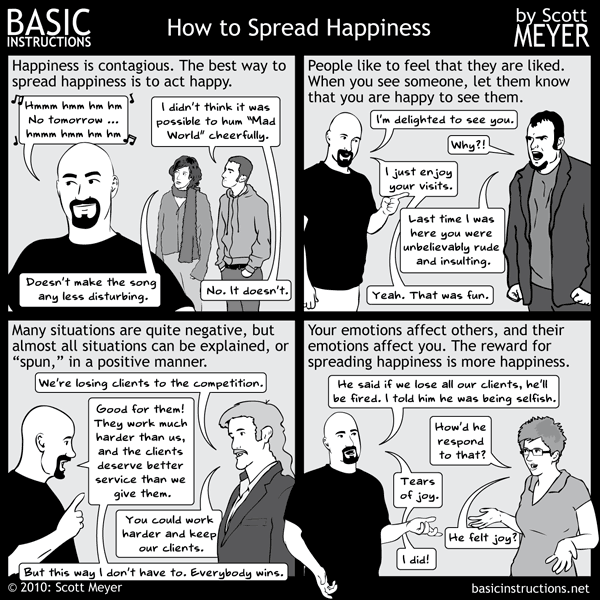 __
Couldn't resist. Scott Meyer's website is Basic Instructions.
***********
Also, commentor Steeplejack posted this earlier today:
All may not be lost. Yesterday I got a report from my friend in Alaska (70-year-old woman), who went to a "meet and greet" for Scott McAdams, the Democratic nominee for the Senate.
__
"Went to meet the Democratic Senate candidate who is going up against the now notorious Tea Party candidate, Joe Miller—don't know if you saw the profile on NYT yesterday. [. . .] I learned more about [Miller] than I had heard in Fairbanks, which is where he lives at the end of Tribulation Trail, with his wife and eight kids. Like everyone in the sociaIist state of Alaska, he has been freeloading in various ways here, but now saying we have to cut the federal deficit and stop earmarks which Alaska lives and dies by. He forbade the reporter from visiting his home, sounds like a conspiracy theorist, thus paranoid. It fits. Anyhow, the Dem guy is the mayor of Sitka and was chosen by the Democratic Party in Alaska probably at a jovial gathering when everybody thought he'd be running against Murkowski and didn't stand a chance. He may stand a chance now because once Mr. Miller's philosophy sinks in, more people may vote against him."
More and more, it looks to me like Scott McAdams deserves some of Balloon Juice's ActBlue dollars. (And that NYTimes article certainly makes his opponent sound like every astroturfed teabagger's wet dream.) Your thoughts?