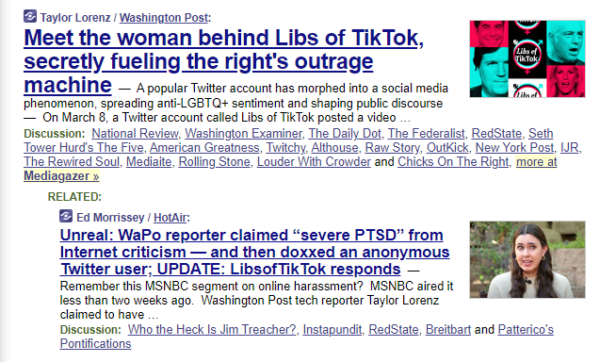 So apparently a reporter at the Washington Post wrote a story saying the name of a person behind some tiktok account I had never heard of (libsoftiktok) who apparently posts all sorts of random shit allegedly making fun of left wingers. I don't really know what they do, to be honest, because for whatever reason I had never heard of it until today. I'd like to pause here and thank the algorithm at tiktok which has kept my feed at a steady stream of 50% animals, 25% cooking and DIY, 10% politics, 10% humor targeting middle aged gen xers, and about 5% attractive women with Australian accents. That is all.
At any rate, the person behind the account has rebranded herself multiple times, and I don't even know if she actually believes but I think she's just someone smart enough to keep rebranding and riding a wave of instant yet anonymous celebrity to keep tons of royalty money rolling in. And good for her. She's also signed her actual name to openly available information that apparently was easily obtainable, and is no longer "anonymous."
You can look it all up yourself because honestly I have no wasted all the time I intend to on something that I have never seen, but instead, I wanted us to all unite in the glory of the screenshot above, which immediately transported me back in time to 2005. I mean would you look at that lineup there- that is some CPAC honoree circa 2008 shit right there. Captain Ed! Ye Old Perfesser! Breitbart! Red State! Box Wine Anne! I mean if we could find Malkin and if the Confederate Yankee hadn't offed himself or if Pam Gellar and Hoft were still around, we'd have the whole gang back.
Can't you just feel the excitement? We could go over all the greatest hits! The terrorist fist jab! Flight 93 Memorial is a nod to Islam! Rachel Ray's scarf is terrorist! Marble Countertops! Let's mail rock salt to Olympia Snowe!
Almost twenty fucking years and not one iota of personal growth from these idiots. I guess me either, because I am still pointing at them and laughing.
*** Update ***
Whole lot more to the story, and boy howdy was I off on Libsoftiktok. Total scumbag. Click here for a great Anne Laurie post.