Still too crazed to think a thought more complicated than "please pass the gravy," but I thought I'd share a bit of kind of bit of way-we-live-now insight, gleaned from a presentation by the head of MIT's Mental Health Services, Alan Siegel.
Asked if there were particular moments of high demand for his kind of help here in the land of mens et manus, he told us, oh yeah.
When might that be?
Valentine's Day.
Apparently, scheduling love by the calendar puts juuuusssst a wee bit of stress on folks. (What a shock.)
It's now just part of the planning process:  for a couple of days before and after Feb. 14, the mental health folks in my neck of the woods double up on staff on duty…
…which is another way of saying that "This depression is brought to you by Hallmark Cards."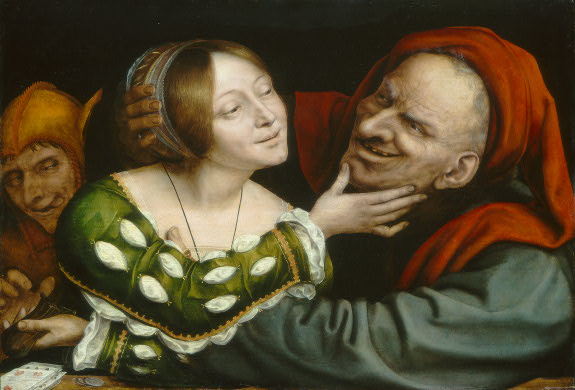 You may consider this a shrink humor open thread.
__
Image:  Quentin Massys, Ill-Matched Lovers, c. 1520-1525