I've been hearing rumors that Halperin was taking Donald Trump's candidacy seriously. After fortifying myself with a few stiff drinks, I decided to stop by "The Page" and see for myself. It was worse than I thought. (The pictures below are from a screenshot of "The Page" this afternoon.)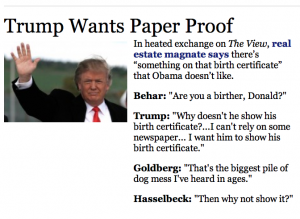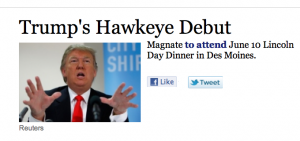 I know we all hate Mark Halperin. But let this sink in for a minute. The New Yorker did a piece a few years ago on Halperin where all kinds of insiders gushed about what a genius the brother was. Here's Paul Begala, for example:
"Halperin is the best. No. 1, he lives, sleeps, eats, and breathes it. No. 2, he's smarter than the average bear. He can sense where a political story or line of argument is going, and he can remember details from a campaign that took place decades ago."
The best, the number one political reporter in the country thinks Donald Trump has a chance to win the Republican nomination. This is like hearing that Billy Beane fell for the Sidd Finch hoax.