Been a while since we had one of these, so I thought it would be a good opportunity for all of you creative types out there to share your wares. I've bought several pieces of art from the readership, the latest being this rendition of the animal family.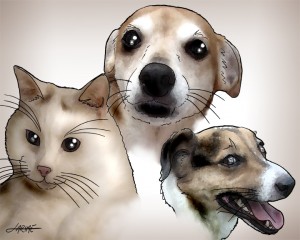 That was done by Larime Taylor, who paints better with his mouth than most of us can with our hands. Also, Larime passes the word that he is looking for one of you who commissioned some work, but he can no longer get in touch with you.
Hopefully in a couple weeks I can send that picture back and have him airbrush out the asshole in the lower right. I'm going to hell.
At any rate, throw some links to art done by you and yours.
BTW- I would love it if the person who sent me these WONDERFUL pictures that I then had professionally framed and hang prominently in my living room would take a bow and share her awesome work with everyone.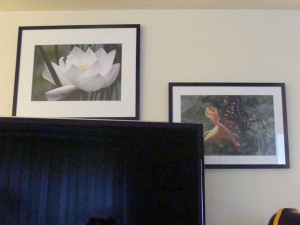 I just love them. They are the first thing anyone sees when they walk into my house. And wait a couple months, and I will show you the pansy pot that Laura W. made, complete with my pansies grown from seed in my basement.