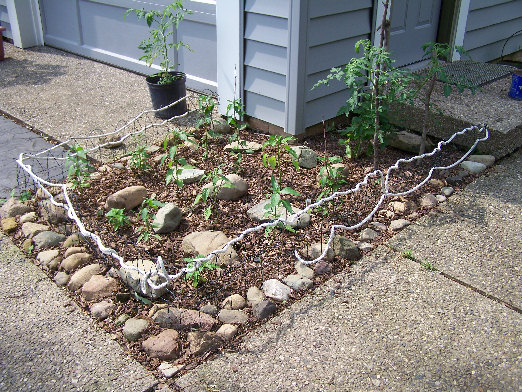 __
Premier placement (and mad props) goes to commentor JHarp, who pointed out that if we're talking about gardens, we could share pictures, too:
Here is a picture of my pepper garden and a couple of tomato plants for your review.
***********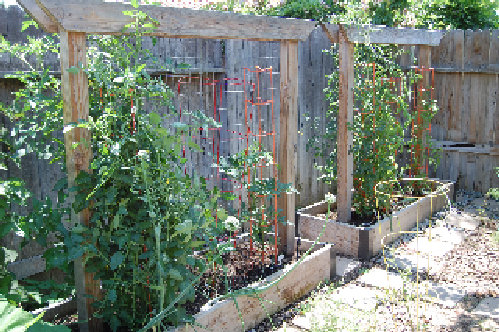 __
From commentor Cat Hair Everywhere:
Attached is a photo of my tomato beds. They are finally growing after a prolonged, cool spring. Left to right are Juliet, Grandfather Ashlock (new for me this year-it has been a slow-grower!), Tomcat, Sweet 100, German Johnson and Black Krim. I have a Sungold stuck in the ground with a yellow basket and an Indische Fleishe on the other side of the yard, because I was warned that it needs to be grown away from other plants. I planted my tomatoes over a period of a few weeks, but the difference in plantsize seems excessive. I don't know what is going on.
__
The other picture [below] is of my yellow pattypan squash.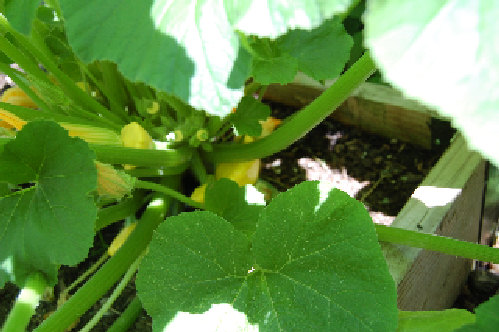 ***********
Not much progress to report from north of Boston — a week of 'intermittent showers' totalling a couple-three inches knocked down a lot of flower blossoms and kept the tomatoes / basil from making much progress. Today it's finally sunny, and hot enough that the one robin fledgling I can see from the ground is panting instead of cheeping. Most of the cherry tomatoes and a few of the others are flowering, and the Stupice has three respectable little green fruitlets now. Also, oddly, the few pansies I transplanted are still flowering; having pansies and daylilies in bloom at the same time is not typical around here — alternating weeks of cold drizzle and midsummer-like drought will do that, I guess.
__
So… Email your jpegs to [email protected] (or click on my name near the top of the right-hand column) and I'll post them next Thursday. If I get more than four or five, I'll add a "Sunday Garden Chat" to the roster. Consider yourself challenged!
__
Meanwhile, how are things in your garden this week? (Several readers have mentioned that a general location — 'desert Southwest' or 'New England' or similar is fine — would be appreciated.)