Just thought I would share some pics of the changes going on at Castle Cole. Basically, we completely redid the front yard. The rhododendron that had been there for years just took a horrible beating the last few winters, and just was not faring well because it needs shade and the old shade tree that used to be in the yard died and had to be cut down. So we ripped that out and put in some new shrubbery. Here's a picture of what it used to look like: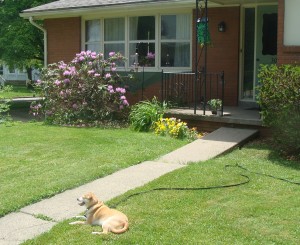 Here is the new look, about a month old: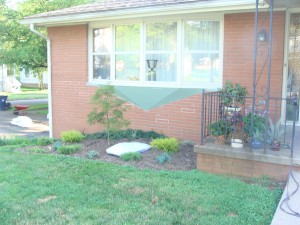 I forget the exact name of the trees and forgot to save the tags, but they are some sort of weeping japanese maple or umbrella tree. The shrubbery are just standard junipers and boxwood, etc. I liked the tree because I can trim it and prune it so it does not grow overly tall and will instead spread out horizontally with beautiful delicate leaves.
On the other side, I can't find any old pictures, but we basically had two standard shrubs that had just been there forever and looked like Danny Devito and Arnold from Twins. One was about 5 feet high, the other three, and in between them was all this ugly dead space. So we yanked them out and threw in a similar look with a different tree: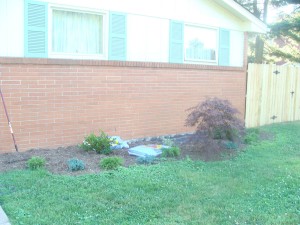 You can also make out the beginning of the fence there- I put a gate right there, and then the rest of the front of the fence will eventually have daffodils/tulips season depending, as well as some hostas, honeysuckle, and some creeping vines.
Around back, here is the gate and the area I intend to put the outdoor patio: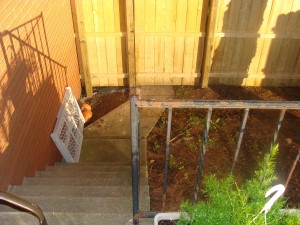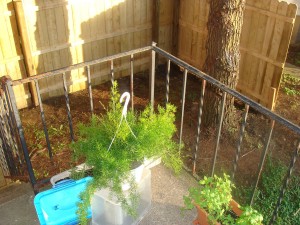 We are heading to the store tomorrow to get the patio supplies, and start filling in the holes so the animals can not get out. Also, it seems that I will be unable to replace the iron railing without replacing the concrete on the porch, so we are going to have to just replace the porch with a deck next year.
So that's what I have been up to.