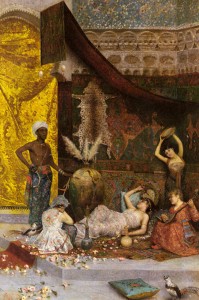 Musically I'm all over the shop, my dears. In my 92 (almost 93!) years, I've seen and enjoyed the birth of almost every modern musical style that doesn't involve catgut strings and dancing in a circle around a fire (and some that do). I'll listen to just about anything, and if the musical experience can be enhanced with alcohol and/or drugs (and let's face it, what isn't?) then Grammy is a happy girl.
Today I'm excited about Radio Soulwax, a new and free website and Ipad/Iphone app from the gentlemen behind Soulwax, The Flying Dewaele Brothers and 2manydjs.
If you haven't experienced them, their musical style is … um … somewhat like seven monkeys on a crack and acid bender being given access to a set of decks and a symphony orchestra.
Imagine that two mad Belgians locked dozens of hooks and lyrics and tunes from familiar songs in a small room with no food and a lot of vodka and left them to fight or fuck it out, so that they could come back in the morning and see what mutant musical offspring has sprung forth, and you're getting close.
Anyway, Radio Soulwax (in either website or app form) will eventually play a full 24 hours of remix sets. The first one hour set, Introversity, is a mix of 420 song introductions, from almost every musical style imaginable, that is exhilarating, confusing and teasing, as tiny snippets of incredible songs fly past at an incredible pace, coupled with album cover animations which would make Terry Gilliam giggle like a loon. Fortunately, they do promise that most of the songs will return in the later mixes in a more substantial form, but even in this truncated form some of the odd conjunctions and inter-mixtures of song intros made me laugh out loud.
I have found the Flash on the website a bit buggy in Firefox so far today, so I have downloaded the first mix to the Ipad app and it's a dream.
Radio Soulwax has the potential to keep me entertained for weeks.
Now, where did I put that coke?
By the way, did I mention it's my birthday this weekend? I'm a Fourth of July baby. There may be fireworks.
[Image: A Musical Interlude in the Harem – Fabbio Fabbi (1861-1946)]