All we ever hear is how Democrats suck at fighting, never attack, etc. Here's what happened when they try: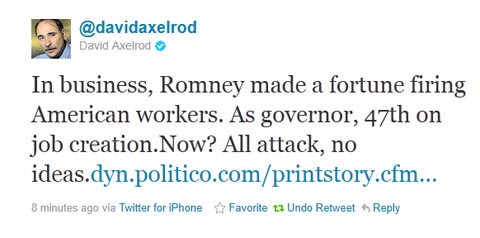 I retweeted it, because it is a good point. Romney and the Republicans have done nothing for job creation, and there is no evidence Romney even knows how to create jobs, yet all they do is attachk, attack, attack and block any and all legislation. Here is the only other immediate response I saw to Axelrod:

There is just something in progressive/liberal DNA that causes them enjoy attacking each other more than attacking Republicans. We don't even have to wait for Republicans to rebut Axelrod, we've already got leading liberals creating strawmen for them. We don't need to help them blur the message- that was a clear message, and now it is completely muddled with "What about Rahm?" nonsense. On top of that, my liberal twitter feed has spent the entire day joining with Romney screaming about Plouffe.
And let's not spend this entire thread bashing Chris Hayes, because he's really a great reporter and I think he does great work- his work at the Nation and elsewhere is awesome. I'm just talking about the overall phenomenon that I've observed in the past few years- Republicans rally around each other and attack Democrats, while Democrats scatter and attack other Democrats. I just simply do not get it. I understand independent thinking and the value of disagreement, but this is a two party system, fer chrissakes. Stop shooting your own team. Here is David Axelrod, doing his best to start a line of attack, and he is knee-capped in 5 minutes or less by his side of the aisle.
It's amazing, really. And depressing. And I swear to God, in thirty years, today's progressives will be screaming about Rahm Emmanuel the way today's wingnuts still think we could have won Vietnam. Get over it, for the love of everything holy.