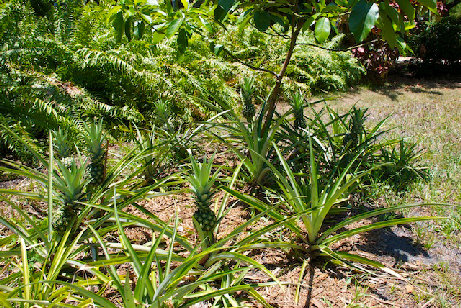 From commentor Stan of the Sawgrass:
I realize this isn't what you North'nrs usually see, and I'd rather post pictures of my tomatoes and asian hot peppers, but my neighborhood has a creepy level of plant fungus. All kinds! The tomato plants are black stubs, the goat's-horn peppers are frosty-white and now dead, and I think I'm going to have to cut down the last of the hibiscuses. I'm planting some sweet peas in the morning, but I'm not getting my hopes up.
__
Anyway, when I was a kid, we'd planted some pineapples and got some nice results. When I moved back to Florida, I thought I'd try planting the pineapple tops instead of just trashing them, and it's been somewhat productive: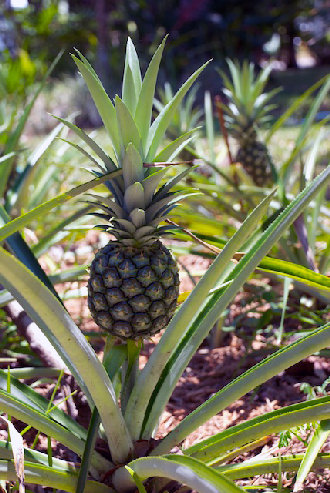 OK, they're tiny– a really "big" one is about the size of my double-fist (got big hands, though). But you get to have the fruit ripen in the sun, instead of being picked green and ripening on your kitchen counter. I mostly did this just for the fun of it, but I've never had a sweeter, less acid, or more fragrant pineapple.
__
And it's the 'gift that keeps on giving'. Twist off the top when you harvest it, let it dry for a day or two, then stick it into the ground. That's it. Period. It takes about two years (that's my experience, at least) but you get a neat lil' chunk of tropical bromiliadiana to amaze your friends with.
__
I don't know how it does in northern climes, but I saw a fruiting pineapple in my Chicago neighborhood sometime around 1998 (picture around here somewhere–maybe.) Other than putting out some fertilizer and not kicking it over when you think it's dead (it may very well sprout up two new plants) there's absolutely no care involved. Except waiting the two years or so for it to fruit.
__
Also, too– you probably don't know this, but those polygonal bumps on the pina started out as real blossoms: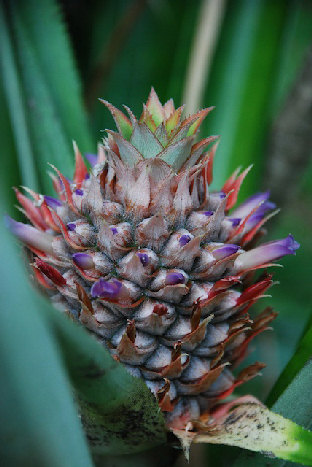 It happens when the pina's a teeny-weeny baby, and it doesn't last very long, but there it is. Real cute, and seldom seen.
__
Also, also too– since this is Bloon Jooz, this is….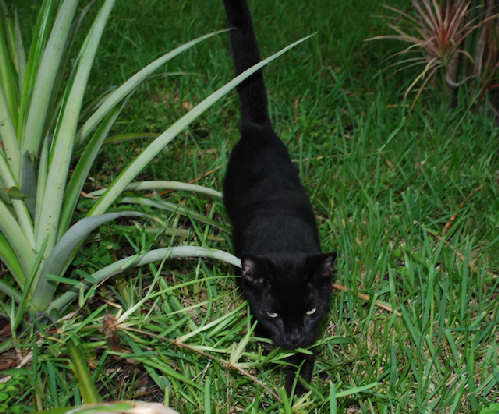 Cat and hunter extraordinaire, Eight Ball! Like most of our cats, he's a feral who adopted us. I've gotten pretty good at socializing ferals like Eight Ball- it takes a few weeks, mostly trust-building using food. There's definitely an age limit to completely socializing ferals to humans, but I've been surprised to see how much you can 'tame' some of these animals if you're very, very patient. Mostly just sitting while they eat, and slowly getting closer day by day.
__
And Eight Ball is a trip, as they say. He likes people, me especially, but he's never quite understood that when you "play", you shouldn't draw blood. It scares people. Poor lil' guy– his mom abandoned him, and he never learned social skills, so I just slap him when he bites. He's confused, but he doesn't run away– or learn better, either. He's truly the "Cat that Walks By Himself," and when I read that story to my niece, I made sure Eight Ball was listening too.
__
PS– Nobody seems to mention this very much, but if you look at his right eye (left in the pic above) he's getting a cataract. All of out outside cats have gotten them too– just like me. It's linked to increased ultraviolet exposure (uhh.. citation needed), but I don't remember this happening when I was a kid down here.
__
But Al Gore is fat, so there. End of story.
***********
__
Nuthin' much to report from my own garden — we are getting some ripe cherry tomatoes at last, but mostly I seem to be doing an awful lot of watering & tying up for very little reward — so you have my most sincere thanks, Stan!
(And a reminder… email me at [email protected] / click on my name near the top of the right-hand column, and you can be a star, too… )
Meanwhile, what's the gardening like in everybody's neck of the woods, right now?