Freddie made a number of different points yesterday, but I want to concentrate on one:
But mistermix—those "messy compromises" that you associate with virtue is why our country is the way it is. Because every messy compromise is at least 80% for the wignuts, you end up with a corrupted country. How long do you keep playing that game until you realize it's rigged? I told you how I think liberal politics can be restored. There have been liberal grassroots movements in this country before and there can be again. But it can never happen if the party leadership forever cuts liberals off at the knees. It cannot happen if we have a messaging machine that refuses to listen to the left wing. It can't happen if blogs like this one associate our own ideas and our own values with shame rather than with pride.
Let's set aside for another time all the disappointing things that Obama has or hasn't done that are in his purview as executive, and concentrate instead on the compromises that have come out of the legislative process, because long-term progress towards liberal goals will come primarily through legislation. I don't see how lack of liberal messaging, or the party cutting liberals off at the knees, or shaming, led to those compromises. In the last Congress, Obama was faced with veto players in the Senate. In this Congress, those players are in the House. In the last Congress, those holding the veto were slightly more amenable to negotiation, plus a few procedural tricks could be used, so we got mediocre healthcare reform, a too-small stimulus, and a few other pieces of somewhat watered-down legislation that arguably advanced the liberal agenda at least slightly. This session: absolutamente nada. We're essentially trying to avoid an apocalypse brought on by the Tea Party.
If Obama had a Democratic Congress, is there any doubt that we'd have better legislation? So let's look at how we get that done. If Freddie is right and Obama was elected as a liberal, by liberals, then the 2008 election was something of a referendum on liberalism. Here's how that shook out (click to embiggen).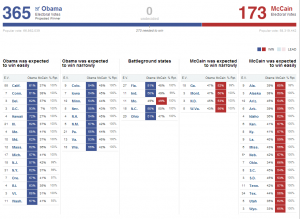 If Democrats won both Senate seats in every state Obama won, we're at 58. Of course, right now we're not there, and a lot of the Senators we do have are from very red states, and they're constantly jumping around trying to prove that they're not real Democrats. Given that we had a Democratic Congress in 2008, we're obviously underperforming there, but the 2008 Congress also had a good number of blue dogs who were elected from districts where the majority of voters aren't down with the liberal program.
So, here's my long-term vision for fewer compromises: In the Senate, we need to either get rid of the filibuster, or we need to settle for less liberal legislation and more blue dogs. In the House, we need fewer 80/20 or 90/10 blue districts, so we can have more competitive, winnable Democratic districts, or we need to settle for more blue dogs.
Of course, I don't agree with Freddie that Obama was elected purely as a liberal — all my liberal friends were supporting Edwards, not Obama, in the early primaries. But if you take his premise, when people voted the liberal into office, they didn't do so with enough votes to guarantee liberal legislation.