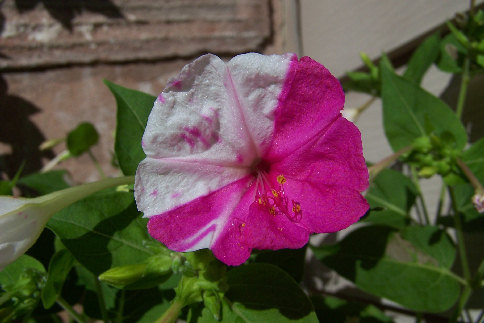 From commentor Mazareth:
My garden is doing pretty well in spite of the sometime neglect. The 4 o'clock blossom is simply cool IMO. I have several growing by the chimney. It creates a micro zone 5 in my yard which allows the 4 o'clocks to over winter. They're an annual in Central Wisconsin.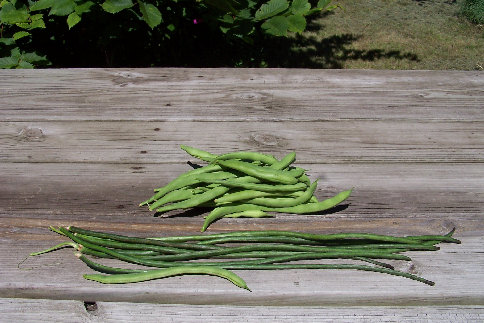 I've been picking beans about every other day. I generally get about a half to three quarters of a pound, which is just about right for single person. This year I have the various bean varieties, tomatoes and cukes. I'm lucky in that we have a 6 day a week Farmer's market. I also have a share in a local CSA. My garden is more about needing to get my hands in dirt, than need. The beans photo shows a pile of Kentucky Wonder pods with Yard Longs in the foreground. I put a Kentucky Wonder in with the Yard Longs to show their respective lengths.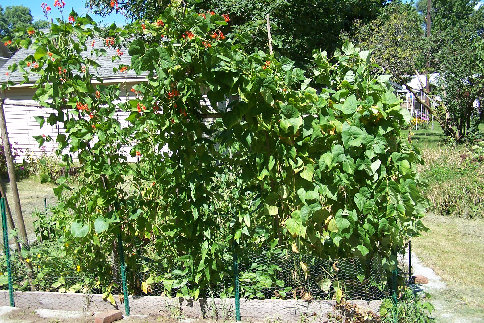 The bean trellis photo is an object lesson in poor design. It's about 7-8′ in height, but as you can see, the vines have overtopped the trellis. From left to right I'm growing Scarlet Runner, Yard Long and Kentucky Wonder. The Scarlet Runner is actually a very flat bean, somewhat like a romano. This year I'm just growing them for seed. The hummingbirds love them. Yard Long is as Asian variety that I'm growing from saved seed. FWIW, I have to harvest the Yard Longs at 18″ to 20″ or they're no good to eat. Kentucky Wonder is a great tasting, productive green bean. The pods can easily growth to 7-8″ and still be tender.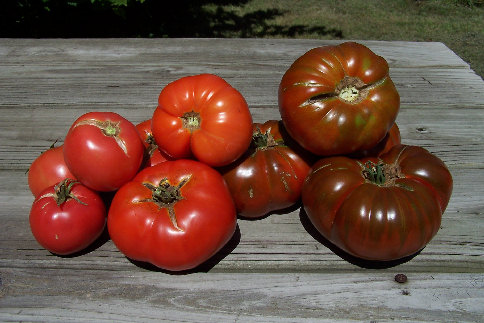 The tomatoes. From left to right: Moskvica, Rose de Berne, and Black Krim. They all good for fresh eating or cooking. I'm making fresh salsa what you see in the photo.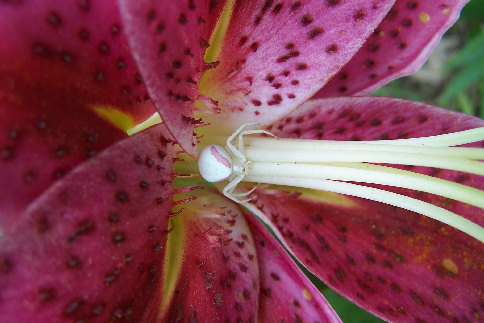 Finally, the crab spider in the Oriental lily. Like me she's mostly a lurker…
***********
So… what's it look like in your gardens, this fine summer Sunday?