Walking among their passengers:

Wall Street saw yet another surge in protesters today – as hundreds of Continental and United Airlines pilots demonstrated in New York City's financial district.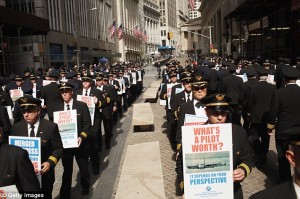 Over 700 hundred activists, represented by the Air Line Pilots Association (ALPA) carriers, took their grievances to the streets as they protested for wages and benefits in light of a stalled merger between the airlines.
Using the image from the "Miracle on the Hudson" was clever. The Postal Workers were out yesterday, too. If this keeps up, we'll all be able to find a picket line to join.