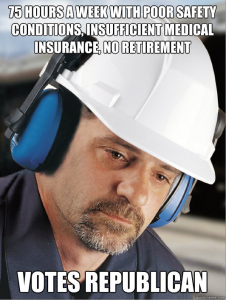 The latest Fox News bullshit meme is that Democrats are giving up on white middle-class voters, which as Steve Benen explains, of course they aren't. The origin of this was a piece by Tom Edsal that pointed out that white, non-college-grad males are leaving the Democratic Party and are hard to persuade.
As Benen and others point out, white lower-middle class males are not a monolithic block, and plenty of them can separate rhetoric from the economic realities of their situation. No Democrat has been trying to replace Medicare with a voucher or invest their Social Security in the stock market, and lots of lower-middle class white males know that. But what about the others — those who will vote for Republican against their economic interests to further some other ill-defined interest? What even motivates these voters?
A social theorist, or a think tank researcher, would have a number of explanations centering around tribalism, false consciousness and perhaps a wee bit of racism. I don't have any of those credentials, so I've got no theories, but I do get the distinct impression that chasing after any group of voters whose main motivation is essentially irrational is a pointless exercise if there's any alternative. And, for 2012, the alternative is clear: play the anti-immigrant rhetoric from the last hundred debates on an endless loop on any TV channel that reaches a Hispanic neighborhood. That's got to be a far better way to spend campaign cash than an effort to cozy up to "NASCAR dads" by proving that Obama is the kind of guy they'd want to have a beer with. Trying to associate the Democratic brand with some ill-defined tribal signifiers is a hell of a lot harder than convincing Hispanics that they would be second-class citizens in a Gingrich or Romney administration. The former involves chasing down a shimmering mirage that's always a few miles further in the distance. The latter just requires articulating a simple, easily demonstrated fact.
(Image from Buffalopundit)