John, I'm stunned that you continue to think Greenwald was using the remark as a metaphor or hyperbole. He expressly stated that he was not: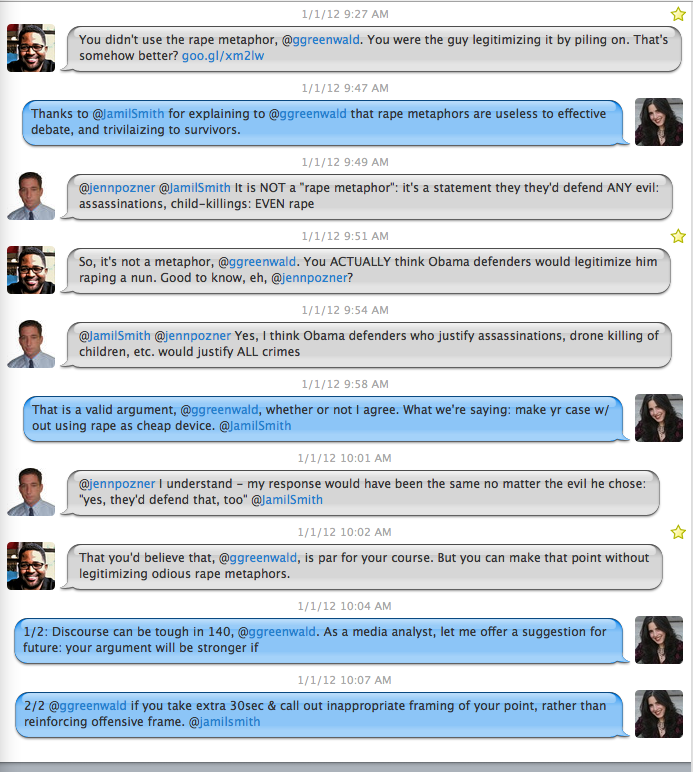 And perhaps you were not "laughing" at rape survivors, but you were mocking them in a public forum where women (including asiangrrlMN) were revealing their experiences with rape and that they found the comments offensive.  Moreover, that men were also expressing concern likely means they have a mother, sister, daughter, aunt, or niece who has been a victim of sexual violence.  You chose to ignore all of that.  You could have said nothing.  You chose to insert yourself.  It was and is wrong. I didn't seek nor did I want your defense.  Your silence would have been sufficient.  
And to those who think I overreacted or have a fragile lady-psyche, I'll be sure to remember not to be so goddamn sensitive about rape in the future.  
I've removed myself from the masthead.  The celebration can officially commence.
-ABL
I've put off writing this post for days, and I still don't have the words to express my disgust about the "rape analogy heard 'round  the Twitterverse."  In case you're not up to speed, long story short, I had a Twitter discussion with Marcy Wheeler about the NDAA; a Greenwald supporter quipped that if I saw Obama raping a nun on live TV, I would defend him for it; another supporter quipped that I would fantasize about playing the role of the raped nun; and Greenwald piled on. When asked to account for the clumsy rape metaphor, Greenwald doubled down, claiming that it wasn't a metaphor, and that he actually believed that I and other Obama supporters would defend Obama if we were to see him raping a nun.
In what world is such a comment appropriate?  It was a vile thing to say, and it is a vile thing to defend.  Moreover, the stalwartness and cluelessness with which people, including John Cole, defended that statement is disappointing.
To be clear: I neither asked nor expected John to defend me.  I can and do defend myself. But I was surprised and stunned that he stridently defended Greenwald when he could have, and should have, said nothing.  Even worse, he managed to cast Greenwald as a victim.  Stunning.
Both Greenwald's comments and the comments offered in defense are incontrovertibly offensive to women, offensive to rape survivors, and are inexcusable.   Does that mean I think Greenwald is pro-rape?  Of course not.  But using rape as a metaphor or leveraging it to score political points is tone-deaf, at best, and malicious at worst.
I'm without words to describe it any further, so I will simply direct your attention to this Chirpstory, to a post by Zerlina Maxwell ("Glenn Greenwald defends 'Obama could rape a nun' attack on supporters"), and to a post by Joy-Ann Reid ("On bullying: Glenn Greenwald and the 'nun rape' smear").
I am disappointed that my tenure at Balloon Juice is ending this way, and I will always be grateful for the opportunity John gave me to blog at Balloon Juice.  But I must move on.
As such, I'll see most of you around on Twitter, ABLC, and other cyberspaces.  To the rest — to those overjoyed at my departure — I'll see you in Pie Heaven.
[cross-posted at
Angry Black Lady Chronicles
]