One of the people I like to poke and prod on twitter is David Freddoso, a right winger who works for the Examiner and other various wingnut sites. I think his world view is crazy and all that, but I like the fact that I can pop in every now and then and basically call him a moron, he'll respond in kind, and then we both go on our own way. That's pretty rare- most right wingers will just lose their shit you say anything to them, and the next thing you know they've tweeted at you 100 times.
At any rate, last night he tweeted something to the effect that if Mitt Romney wins the nomination, he is going to have to "educate people about private equity." I just giggled when I read it, and basically responded, wait a minute- you guys spent the last three years getting people to yell "get government out of medicare" and know you think you have a shot in hell at explaining something like private equity? To which he responded with this gem: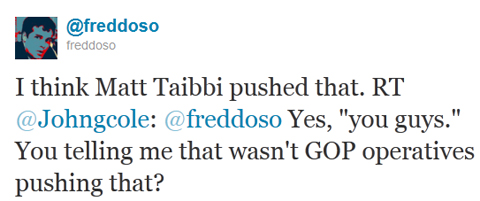 To back up his "point," he then directed us to this Rolling Stones piece:
Scanning the thousands of hopped-up faces in the crowd, I am immediately struck by two things. One is that there isn't a single black person here. The other is the truly awesome quantity of medical hardware: Seemingly every third person in the place is sucking oxygen from a tank or propping their giant atrophied glutes on motorized wheelchair-scooters. As Palin launches into her Ronald Reagan impression — "Government's not the solution! Government's the problem!" — the person sitting next to me leans over and explains.

"The scooters are because of Medicare," he whispers helpfully. "They have these commercials down here: 'You won't even have to pay for your scooter! Medicare will pay!' Practically everyone in Kentucky has one."

A hall full of elderly white people in Medicare-paid scooters, railing against government spending and imagining themselves revolutionaries as they cheer on the vice-presidential puppet hand-picked by the GOP establishment. If there exists a better snapshot of everything the Tea Party represents, I can't imagine it.

After Palin wraps up, I race to the parking lot in search of departing Medicare-motor-scooter conservatives. I come upon an elderly couple, Janice and David Wheelock, who are fairly itching to share their views.

Matt Taibbi on the response to this article: "Rand's Medical Group: Obama Hypnotized Voters"

"I'm anti-spending and anti-government," crows David, as scooter-bound Janice looks on. "The welfare state is out of control."

"OK," I say. "And what do you do for a living?"

"Me?" he says proudly. "Oh, I'm a property appraiser. Have been my whole life."

I frown. "Are either of you on Medicare?"

Silence: Then Janice, a nice enough woman, it seems, slowly raises her hand, offering a faint smile, as if to say, You got me!

"Let me get this straight," I say to David. "You've been picking up a check from the government for decades, as a tax assessor, and your wife is on Medicare. How can you complain about the welfare state?"

"Well," he says, "there's a lot of people on welfare who don't deserve it. Too many people are living off the government."
So in the wingnut hive mind, it wasn't distributed right wing talking points, or colossal ignorance or anything like that that had legions of blue hairs in hoverrounds all over the country yelling "Get government out of Medicare." Nosirree. It's either because Taibbi started something at a rally or Rolling Stone's circulation numbers in the 65 and older set are FUCKING PHENOMENAL. And even then, you have to ignore the fact that Taibbi wasn't telling them to yell that, he was pointing out how stupid it was to tell government to get out of a… government program. You'd also have to ignore the fact that the media was reporting these sorts of things prior to Taibbi's column.
So the next time you see one of these: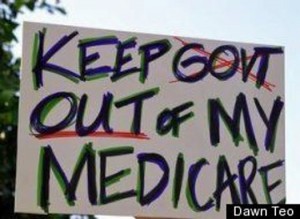 Come across one of those in the wild, and you know who to blame. Matt Taibbi.
Priceless.