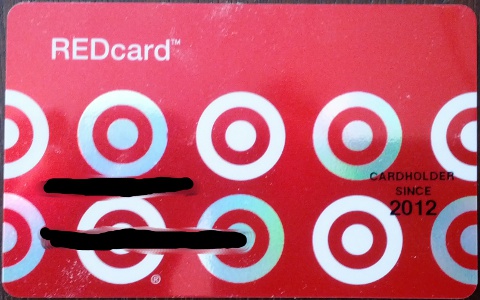 As part of my 99-percenter quiet and probably pointless boycotting of banks and card associations, I have started to pay cash a lot more, and I've also been looking at alternate forms of payment. For example, one of the local gas chains issues a card that debits your bank account directly (using ACH). They'll also give you 7 cents off on gas if you use it (10 cents on Sundays). That takes a few bucks out of the pockets of banks every year, but what's more interesting is the card I got the other day (pictured above), from Target. This card gives me 5% off every Target purchase. Unlike the gas card, it's a regular store credit card, so you can carry a balance and pay interest if you want. Every other store charge card I've seen is a MasterCard or Visa that can be used in other stores, but this one isn't–you can only use it at Target. And it's issued by the "Target National Bank".
A few years ago, Wal-Mart tried to start the "Wal-Mart National Bank" and were shut down by the big banks and other Wal-Mart haters. Yet here's Target, quietly running their own bank and issuing their own card at stores where the average family could spend a fair amount of the money they'd otherwise charge on bank credit cards. As far as I can tell, the groups that opposed Wal-Mart haven't said a thing about Target's foray into banking.
This is a pattern with Target. They sell the same Chinese crap as Wal-Mart, they're as anti-union as Wal-Mart, and they're really no better than Wal-Mart on a number of different measures. But Wal-Mart gets all the hate. My guess is that one reason is that Target is more hip and caters to a more middle-class set of customers, so hating Target would be a bit inconvenient for the haters, who also consider themselves more hip and middle-class. In other words, where would the Wal-Mart haters shop if they couldn't drive next door to Target? The other reason is that Target, which is headquartered in Minneapolis, is Minnesota nice. They don't make a big fuss about starting a bank, and they definitely don't throw down threats about taking over the banking business. Instead, they quietly issue a card that will take millions of dollars out of the pockets of banks, just as they quietly rack up profits doing more-or-less what Wal-Mart does while getting a tiny fraction of the heat.