A disturbing chart, from Jared Bernstein via K-Thug.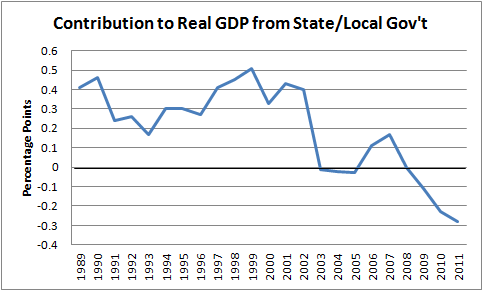 In other words, we're looking at -0.3% in GDP from cuts in state and local budgets alone. The idea with Keynesian economics is that state cuts/expenditure increases get multiplied in terms of overall impact on the GDP, but, even leaving that aside, these numbers are large:
It's hard to overstate just how wrong all this is. We have a situation in which resources are sitting idle looking for uses — massive unemployment of workers, especially construction workers, capital so bereft of good investment opportunities that it's available to the federal government at negative real interest rates. Never mind multipliers and all that (although they exist too); this is a time when government investment should be pushed very hard. Instead, it's being slashed.
All of this belt-tightening for the sake of belt-tightening is simply insane. It is failing over and over again everywhere, and this isn't just some academic exercise, people's lives are getting destroyed. It's a tragedy, plain and simple, one that has real victims and real perpetrators.