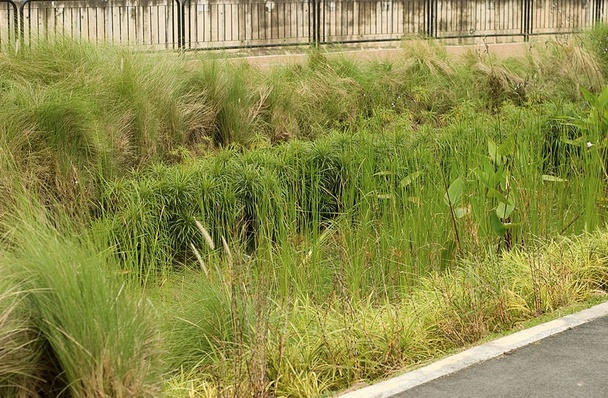 From Christine MacDonald at the Atlantic Cities blog, on "Why Every City Should Be Planting Rain Gardens":
Andy Wible's backyard in Washington, D.C.'s Petworth neighborhood doesn't look much like a sewerage drain. But his Bayberry, Bee Balm, Iris and Golden Ragwort plants get the job done – and then some. Dug 30 inches down and filled with a mixture of sand, topsoil and compost, Wible's rain garden draws raindrops tumbling off the roof deep into the soil, purifying them and recharging the groundwater.
__
The backyard patch is part of RiverSmart Washington, a new network of rain gardens that seek to mimic a natural ecosystem and end the scourge of sewerage overflows that have long befouled the country's waterways…
__
Once, cities were built to channel storm water away from building foundations and roadways. But as urban areas have grown, rooftops, streets and other impervious surfaces have disrupted cities' natural hydrology. Today, everyone from water authorities to home gardeners are looking to absorb rain where it falls, eschewing traditional treatment plants and underground sewerage tunnels that effectively neutralize runoff, but don't do much else…
I will admit I love this concept — of course I love just about any gardening concept that involves the phrase 'minimal upkeep' — although I'm not sure what it would take to make the EPA happy in an elderly urban area like mine, where the groundwater is already seriously contaminated. (True story: Our house is built on two overlapping Superfund sites. We couldn't finish our mortgage application until we'd signed a form promising not to put in a well, as though that were a possibility on a 75×80 foot lot.) Anybody here have experience with rain gardens?
Here in New England, it's too early even for seed-starting, although the USDA Plant Hardiness Zone map has just been recalibrated to address the anthropogenic climate change that officially isn't happening. It's been a hella weird winter, with just about no plowable snow since the Halloween Horrorshow spoilt the weekend for a lot of trick-or-treaters and insurance adjusters, and temps running a consistent 20 degrees above average. Which has meant, for me, looking at a sodden grey/brown yard reflecting all my sad yardkeeping failures, without the face-saving snow cover to disguise my slackness. Usually by this time I'm well into making lists of potential planting purchases, but without the white-out, I just can't seem to get motivated. Maybe, like a daffodil bulb, I just need a certain period of below-freezing temperatures to inspire green shoots.
How's the garden-planning, or actual gardening, going in your neighborhood? Send me your pics ([email protected], or click on the link near the top right-hand column) and I'll put up a Sunday Garden Chat when we've got something to share….