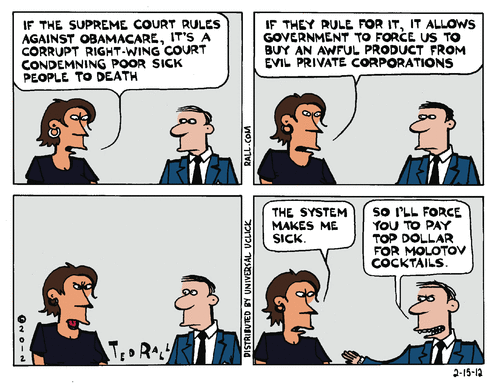 (Ted Rall's website)
__
Well, it made me laugh. And for those of you who are sick of Rick Santorum, Jon Chait at NYMag's Daily Intel has a (not the moronic troll) reality check:
Here are some things to keep in mind when assessing Rick Santorum's chances of beating Mitt Romney. He has no pollster, no campaign headquarters, and no paid advance staff. He's currently getting outspent on television in Michigan by a ratio of 29-1… He also failed to get his name on the ballot in such states as Virginia and Indiana. Perhaps you have heard of them…
__
As Josh Marshall put it, "running around the country in a long twilight struggle with Rick Santorum is just … how to put it? inherently demeaning and diminishing. It's like struggling to land a one pound fish or searching for the way out of a paper bag."
So… what non-sickening events are on the agenda?