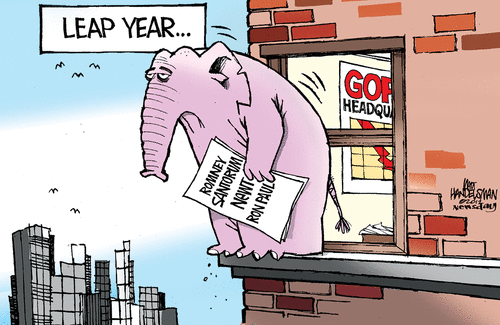 (Walt Hadelsman via GoComics.com)
__
Let this be remembered as the day Erick "Voice of the GOP Gated Community" Erickson went full-metal Crazification Factor:
When you have a candidate few people really like, whose support is a mile wide and an inch deep, whose raison d'etre (a 4am fancy word) is fixing an economy that is fixing itself without him, and who only wins his actual, factual home state by three percentage points against a guy no one took seriously only two months ago, there really is little reason for independent voters in the general election to choose him if the economy keeps improving.
__
Seriously, putting it bluntly, conservatives may not like Barack Obama, but most other people do. And when faced with a guy you like and a guy you don't like who says he can fix an economy that no longer needs fixing, you're going to go with the guy you like.
__
If Republicans in Washington are not panicked and trying desperately to pull Bobby Jindal in the race tomorrow, or someone like him, the party leaders must have a death wish.Mitt Romney continues to run an uninspiring campaign only able to win by massively outspending his opponents to tell voters how much worse the other guys are. That may work in the primary, but it will not work in a general election where the President of the United States won't be outspent 5 to 1…
__
Hello? Bobby Jindal? You paying attention?
My emphasis. Shorter Infinite Ericks: If we're gonna beat the Brown Guy in the White House, we need a brown guy of our very own! (Because that worked so very, very well for Alan Keyes!)
***********
What other antic japes are on the agenda this evening?