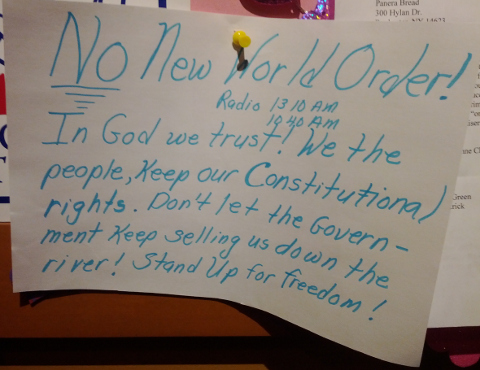 I saw this in a local coffee shop yesterday–it's for a couple of third-tier religious/talk-radio stations, one of which headlines Michael Savage. This is where Rush is headed if he keeps it up. The scorecard on his advertisers is brutal. He's lost six, including Carbonite backup, who dropped him last night after his lame apology and did it with a tough statement from the CEO:
No one with daughters the age of Sandra Fluke, and I have two, could possibly abide the insult and abuse heaped upon this courageous and well-intentioned young lady. Mr. Limbaugh, with his highly personal attacks on Miss Fluke, overstepped any reasonable bounds of decency. Even though Mr. Limbaugh has now issued an apology, we have nonetheless decided to withdraw our advertising from his show. We hope that our action, along with the other advertisers who have already withdrawn their ads, will ultimately contribute to a more civilized public discourse.
People have been boycotting Rush forever, and obviously Carbonite didn't give a shit about civilized public discourse then, which makes the politics of this very interesting. First, Obama's call had to be a tipping point, and it was a pitch perfect way to criticize Rush without getting down in the muck with him. Second, with the current state of the Republican party, there's no need to worry about them meeting us halfway on any issue. Here's a bit of claim chowder from Amanda Marcotte that's still fresh:
"Some women aren't even taking the birth control pill for contraception! They need it for cramps/endometriosis/etc."
Every time you say this, a right winger wanting to imply that women who have sex for pleasure are sluts gets his wings. This statement and all variations on it feeds into the right wing claim that a) contraception is not health care and b) that women who have sex for pleasure are so indefensible that you have to lean on off-label uses for a contraceptive drug to justify its existence. It also does absolutely nothing to defend the non-pill contraception that's covered by the health care act, such as IUDs or sterilization. Plus, that gives them an easy out, which is to say that they're fine with insurance covering pills that are prescribed for non-contraception use, but just object to prescriptions for women who use them to prevent pregnancy.
I don't disagree with the ideology of that post, but in hindsight the politics are wrong. Fluke's testimony, as John pointed out, was all about the use of the pill for ovarian cysts. It didn't matter, she was still called a slut, but the extreme reasonableness of Fluke's position made Rush look even more unreasonable. Marcotte's critique is sort of the flip side of Obama's attempt to draw the Republicans into compromise over healthcare reform or deficit reduction. In each case, the underlying wrong assumption is that Republicans will make a politically smart compromise to advance their agenda. Any argument that makes that assumption in the 2012 campaign should be immediately suspect.