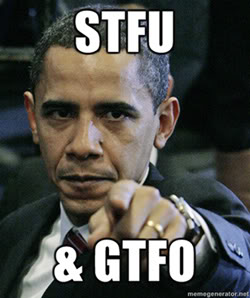 Via the Benenator 2000 over at the Maddow Blog, I see that Obama is tired of dealing with deceitful Republicans:
Acting White House Budget Director Jeff Zients wrote to the heads of the House and Senate Appropriations Committees on Wednesday to lay down the threat.

"Until the House of Representatives indicates that it will abide by last summer's agreement, the President will not be able to sign any appropriations bills," the letter states.
Basically, the teahadist faction in the right wants to make more cuts to domestic spending beyond what was already agreed upon, while at the same time spending MORE on defense than was agreed upon:
But fast forward to this spring when, as we've noted in previous stories, House Republicans pledged to cut more out of discretionary spending programs in the next fiscal year than they agreed to last summer. Facing a rebellion from House conservatives, budget committee chairman Paul Ryan and party leaders cut deeper, setting a ceiling for discretionary spending that's $19 billion below the cap in the debt limit deal, and cuts domestic spending even further to finance greater-than-agreed-to funding for the Defense Department.
For now, at least, the White House is holding strong.