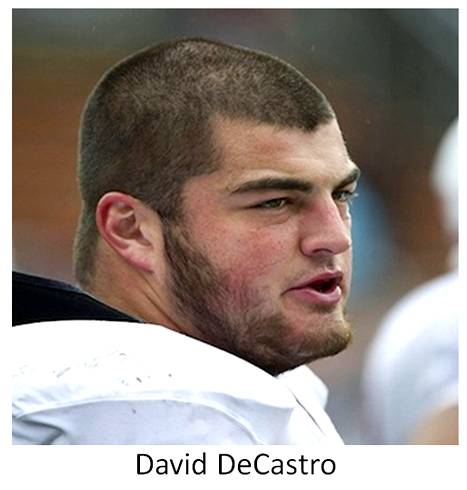 Welcome to the big show, Mr. DeCastro!
Loving the Steelers pick. We need O-linemen, and this guy looks like a quintessential Steeler. Putting aside the fact that I am all about linemen, and all my favorite players have been linemen, I like smart players on the o-line (and the o-line usually is the smartest group of guys on any team, scoring the highest on the wonderlic, which makes sense, because offensive line is the hardest position in the sport mentally to master), so having a big, old-school Stanford grad is awesome. Dumb people don't graduate from Stanford. It will be interesting to see what we do with Gilbert. Like to see a tackle as our next pick, then maybe a DT since my man Casey (I have his jersey, an autographed ball, autographed photo, and he has been my favorite player for years, so much so that mom gives me Christmas presents signed "Casey" every Christmas) is aging and Hoke retired.
The shock for me tonight was Bruce Irvin going at #15. I've watched him for two years, and I thought he was a good player with a lot of heart, but one-dimensional, lacking size, and probably a 3-4th round pick at best.
We're just a few months away from the NFL, and if we can live through that long dark baseball season, all is good.