So I finally broke down, bit the bullet, and purchased my raised bed gardens. I was going to build them from scratch, but I ran the numbers at a couple lumber and supply yards, and every time I came up spending more than if I bought them from someone. So I ended up purchasing them from a small family business in Vermont, Cedar Goods (one of you kind people sent me the link the last time I talked about it). The price was right, plus they have free shipping, and most importantly, they are a small business and they responded promptly and politely to my emails.
At any rate, I ordered four 4'x8'x8″ beds, and I guess what I need to know is how much topsoil I need. Or do I even want topsoil? My plan is to use these for this year, then next year, splurge and order the same amount so the beds are 16″ tall.
Soooo, green thumbs. Should I just get a truckload of topsoil? Or should I go something like mushroom compost and a topsoil mix? Work with me. I only have a couple weeks. I really want this all in by 15 May. How much soil do I need, total? I'm sure I knew the math 30 years ago when I was on the math team, but now I am just lost.
And, since I love you all so much, I went out into the torrential downpour and took a picture of the flower box I just put in today, with two types of beautiful petunias in the front and some snapdragons and marigolds in the back. I put it in even though I am worried about frost, because I can easily unlatch them if a frost comes and throw them inside.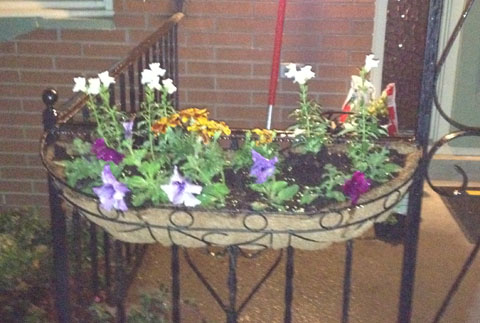 I've got another 12 flower boxes all along the back fence, but half of them are vacant atm since I am waiting for the frost to end, and I just have the durable herbs out (cilantro, parsley, mint). Once it warms up, I will get the basil, rosemary, and other stuff up, as well as the summer florals.