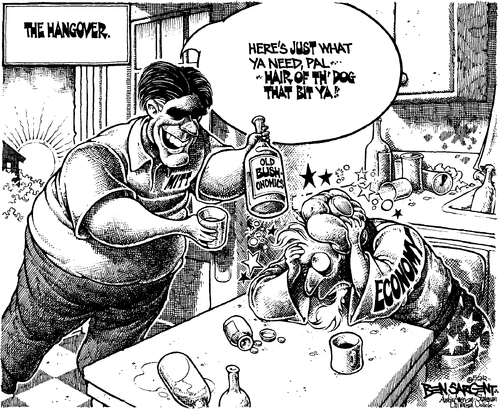 (Ben Sargent via GoComics.com)
Steve Kornacki at Salon reminds us about Cory Booker's political history:
It's easy to forget, but before the world met Barack Obama in 2004, many believed that the first black president would be Booker. Armed with Stanford, Yale and Oxford degrees and all of the invaluable personal connections he forged at those institutions, he set out in the mid-1990s to craft a uniquely appealing political biography, swearing off lucrative job offers to move to Newark's Central Ward and take up residence in public housing. Within a few years, he won a seat on the City Council, where he showed an early and consistent knack for self-generated publicity, most notably with a ten-day hunger strike in the summer of 1999.

That set the stage for Booker's 2002 race for mayor, an ugly contest against incumbent Sharpe James, an entrenched icon of the city's civil rights generation of black politicians. James, as any self-respecting Newark mayor would do, leveraged his clout for campaign contributions from city workers, vendors and those who aspired to be city workers and vendors.

Booker, meanwhile, had hardly lost touch with his old classmates, keeping one foot in Newark and the other in Manhattan, where he built on the connections to elite donors that he already had. He called the millions of dollars he raised for the race "love money." The press – and James' campaign – took note that almost all of it was from outside Newark, nearly half of it was from outside New Jersey, and a quarter of it came directly from Wall Street.

This helped bolster James' claim that Booker, who grew up in an affluent suburb, was not an authentic Newarker. That attack resonated just enough to save James, who won in a squeaker. It was a pyrrhic victory, though: Booker had captured national interest – there was a Time profile during the campaign, and an Academy Award-nominated documentary followed – and immediately started campaigning for the next race, while a federal investigation soon swallowed up James. In 2006, Booker was elected with ease, while James was on his way to jail.

Since then, the only question in New Jersey has been when – and not if – Booker will seek to run for statewide office. In 2009, the beleaguered Jon Corzine begged him to run for lieutenant governor on his ticket, an offer that Booker wisely refused. He's often touted as a potential gubernatorial candidate for 2013, but those who know him say his eye is more on the Senate seat now held by 88-year-old Frank Lautenberg, which will be up in 2014….
Dave Weigel at Slate makes a contrarian argument about the 'distration':
The Romney campaign is spending all day "messaging" Cory Booker's Meet the Press comments, raising the stakes with a profoundly dramatic video ad that's intended to further the "Booker SLAMS Obama" story. Did you know that former congressman and frequent Morning Joe guest Harold Ford is a "key Obama supporter," and not just a has-been now working for Merrill Lynch?

It's nice, hot gruel for political reporters/readers, but… isn't it also a distraction? Ideally, yes, the Obama campaign would be talking about Bain Capital with no strong response from the Romney camapign. But would the media cover the re-heated, microwaved Bain stories the same way? No — you need some sort of fight to make them worth covering. And here we are, talking about Bain, instead of talking about the economy, or Israel, or one of the things the Romney campaign enjoys discussing.
Besides shiny distractions, what's on the agenda for the evening?