We had a spaghetti dinner fundraiser for our statehouse candidate Saturday night at the Eagles hall.
This is John Vanover, the candidate: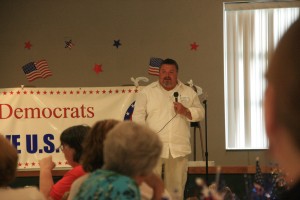 The dinner was from 4 to 7, we had early shift and later shift diners so John gave his speech twice.
John works at a factory here and he's very active in his union so his list of people to invite was a little different than mine. I invited all the local Democrats I know and John invited Steelworkers and Teamsters, basically, from what I could tell. There's some overlap of course, but the people John invited were not necessarily Democrats, or even particularly interested in politics. They know and like him and that's why they came.
Our Obama organizer was there and he followed behind as John went from table to table and they both spoke to the attendees individually. As you may know, The List is like currency in organizing and new contacts are sought after. The Obama organizer was pleased because he was collecting names and contact numbers from people he may not have encountered otherwise, and because milling around at a dinner is probably a lot easier than canvassing.
About midway through, Angela Zimman arrived. She's running for the US House, and she was a big hit. She's very engaging and energetic. Here's her official photo. The picture of her that I got included a local (retired) judge and I don't know that he'd want me making him famous. I try to show people this site on my phone and ask them if I can use the picture, but that involves a long explanation beginning with "what is… Balloon Juice?" and I just didn't want to get into it with him.
I was supposed to be the contact person for Sherrod Brown's campaign at this thing, but I had to take tickets and count money and talk a lot (three things at the same time, two too many for me, obviously) so all I was able to do on that end was pass out bumper stickers. Brown will, however, have the benefit of John's Bigger Combined List going forward.
We raised about 1500 dollars after expenses. The tickets were 8 dollars each so that's a good night.