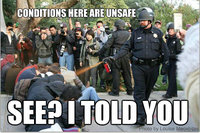 Per the Sacramento Bee, "Officer at center of pepper-spraying incident no longer works at UC Davis":
Lt. John Pike, the UC Davis police officer who became a focal point of last November's pepper-spraying incident during a campus protest, is no longer employed by the university, a spokesman confirmed late Tuesday. UC Davis spokesman Barry Shiller said he could not discuss the details of Pike's departure, but in response to queries from The Bee, he said Pike was no longer employed there as of Tuesday…

Pike, 39, declined to comment when reached by The Bee as he was sitting in a meeting on campus where he said he was being terminated.

Pike's 2010 salary was listed as $110,243.12. He has been on paid leave since the debacle unfolded last year, sparking worldwide outrage, numerous investigations and calls for the resignation of UC Davis leaders…

Pike's future had remained in limbo until now, and at one point he faced harassment that included a barrage of 10,000 text messages, 17,000 emails and numerous items being ordered delivered to his home.

That backlash led, in part, to a judge's order that the names of other officers involved in the incident not be revealed, an order that is currently the subject of a legal battle between the Federated University Police Officers Association and lawyers for The Bee and the Los Angeles Times.

The university, Pike and other officers have since been sued by students who say they were victims of the pepper-spraying. The Yolo County District Attorney's Office is still reviewing the matter to determine whether criminal charges should be filed.
On the other coast, NYMag reports that Deputy Inspector Tony Bologna won't suffer alone:
Last week a report from civil liberties experts at NYU, Fordham, Harvard, and Stanford confirmed what anyone who followed Occupy Wall Street had already concluded: Police were far too rough with protesters. Two protesters already filed a lawsuit in February against the city and NYPD Deputy Inspector Anthony Bologna, whose liberal use of pepper spray was caught on film and widely circulated on YouTube. Today three more protesters filed lawsuits, but in addition to monetary damages they're hoping to force the NYPD to change its policies on the use of force during demonstrations…

Following the initial complaints about Bologna, he offered a questionable excuse, lost some vacation time, and was reassigned to Staten Island. Plus, in what may be the most serious punishment, the city is also letting him pay his own legal fees related to the lawsuits filed in February. (There's no word yet on whether the same goes for the new complaints.)…

Taylor says that his clients are seeking monetary damages "as anyone would seek if they were wrongfully pepper-sprayed," but their primary goal is changing the way the NYPD operates. "Ray Kelly isn't going to do it, the mayor isn't going to do it, so we're asking the courts to step in," says Taylor. They want to see more judicial supervision of the department's response to protests and held off on filing the suits partially so they'd have the experts' report to bolster their claim. The city has already ignored numerous calls to create an inspector general's office to review its policies, but with new suits filed and the report's authors threatening to ask the Department of Justice to investigate their findings, it seems that the era of asking the NYPD to do a better job of policing itself may be over.