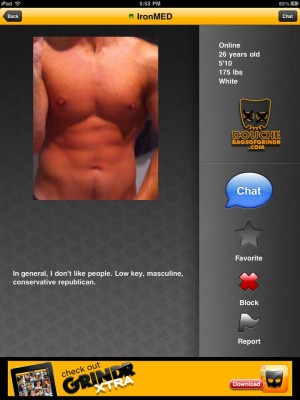 It's been a busy week – saying goodbye to my Australian friends, being strapped into my special travelling gurney, wheeled on to a plane and stuck so full of Ambien that I didn't wake up for two days, and then making myself nice for the Republican convention.
At the moment, I'm holed up in my newly refurbished room at the Seminole Hard Rock Hotel & Casino in Tampa. More on Mitt Romney's damp loserpalooza later.
For the moment, I just wanted to follow up on a request from Narcissus, who said that we should have a contest for the best GOP craigslist personals ad.
Done. What are the rules then, kiddies?
I propose a few basic ones.
First, in the interests of gender equality and sexual liberation, entry is open to personal ads of all fleshly, legal permutations, be it f4m or m4m or "not sure with a side of whips and a Ronald Reagan mask, please sir".
Second, for the benefit of those in Tampa, I also suggest we accept grindr screenshots. My grindr has shown nothing but star-sparkled bottoms, eagles and the flag of the good old US of A for the past three hours.
Obvious trolls and fakes will be mocked.
Have at it.
ETA: It's quiet out there. Well see how we go as the week progresses. I did like JGabriel's find: