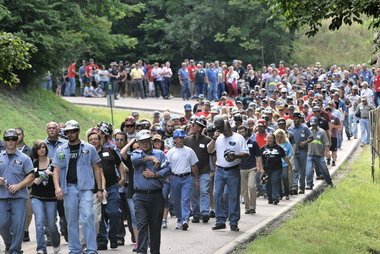 Hundreds of coal miners and their families wait in line to attend a rally Aug. 14 at the Century Mine near Beallsville, Ohio. (Associated Press)
__
Remember John Cole's post about "Mitt Romney's Post-Truth Campaign" dropping in on those coal miners in Ohio for the benefit of Fox News? Details have since leaked out about the real cost of R-money's photo shoot:
When GOP presidential candidate Mitt Romney visited an Ohio coal mine this month to promote jobs in the coal industry, workers who appeared with him at the rally lost pay because their mine was shut down.

The Pepper Pike company that owns the Century Mine told workers that attending the Aug. 14 Romney event would be both mandatory and unpaid, a top company official said Monday morning in a West Virginia radio interview.

A group of employees who feared they'd be fired if they didn't attend the campaign rally in Beallsville, Ohio, complained about it to WWVA radio station talk show host David Blomquist. Blomquist discussed their beefs on the air Monday with Murray Energy Chief Financial Officer Rob Moore.

Moore told Blomquist that managers "communicated to our workforce that the attendance at the Romney event was mandatory, but no one was forced to attend." He said the company did not penalize no-shows.

Because the company's mine had to be shut down for "safety and security" reasons during Romney's visit, Moore confirmed workers were not paid that day. He said miners also lose pay when weather or power outages shut down the mine, and noted that federal election law doesn't let companies pay workers to attend political events.

Moore said he didn't see anything negative in attending Romney's campaign appearance with U.S. Sen. Rob Portman and Ohio Treasurer Josh Mandel.

"We are talking about an event that was in the best interest of anyone that's related to the coal industry in this area or the entire country," Moore said in the radio interview…
Shorter CFO Moore: When Crown Prince Romney chooses to survey our humble barony, you serfs will be standing in neat rows to greet him with the panoply he expects. And don't expect us to pay you for the honor of witnessing his cortege, either.
Weather disasters, power outages, Romney visits — all acts of God, in the eyes of the Pepper Pike mining company. This is why we have to keep fighting.