Actually, the only coordination was when the RNC worked with the media to allow Ryan to speak before a nationally televised audience. As predicted, he then spent his time in the limelight lying his ass off, and this is what happened:
An army of fact-checkers swarmed around Paul Ryan's acceptance speech last night, and the verdict was swift and unanimous: lies, omissions, a sweeping rewrite of recent history. But there's one question no checker can answer: Why was it necessary to lie in the first place?

Mr. Ryan could have made a sharp critique of the Obama years without changing the underlying facts. That he chose not to do so suggests he isn't sure the facts are on his side.

***

With a few tweaks and a little more courage, Mr. Ryan could have made a speech that wouldn't set off truth-meters and might have explained the foundations of the party's thinking. The only conclusion to draw is that he really doesn't want the public to know what he's thinking.
More broadly, this is what is happening: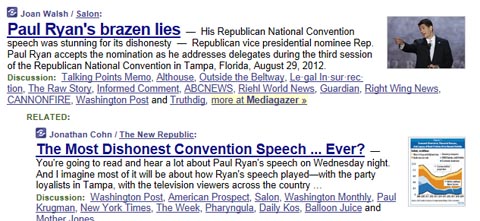 Look- I'm as shocked as Jay Rosen that even the Washington Post Editorial Board and other media outlets that normally roll over and play dead whenever Republicans blatantly lie are finally coming out and calling a lie a lie.
But if Republicans want to stop being called liars, they should probably stop lying about everything. But they can't, because every time they are honest about their beliefs, people look at them like they are the three-headed spawn of Satan. Ask Rep. Akin.