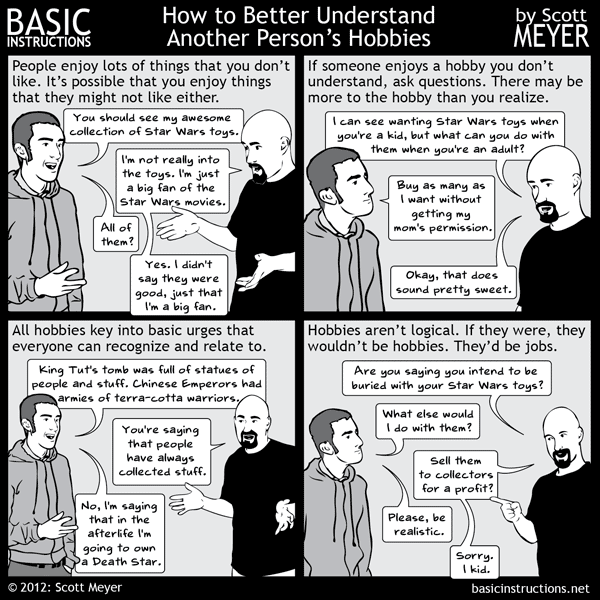 (Scott Meyer via GoComics.com — enlargement available at the link)
__
From the Washington Post, some good news concerning our illogical hobby of politics-watching:
On the eve of the first presidential debate, President Obama leads or is at parity with Mitt Romney on virtually every major issue and attribute in what remains a competitive general election, according to a new Washington Post-ABC News poll….

Nationally, the race is unmoved from early September, with 49 percent of likely voters saying they would vote for Obama if the election were held today and 47 percent saying they would vote for Romney. Among all registered voters, Obama is up by a slim five percentage points, nearly identical to his margin in a poll two weeks ago.

But 52 percent of likely voters across swing states side with Obama and 41 percent with Romney in the new national poll, paralleling Obama's advantages in recent Washington Post polls in Florida, Ohio and Virginia…

Obama continues to hold double-digit advantages when it comes to being the more friendly and likable of the two, and also as the candidate more voters trust on social issues, women's issues and terrorism. He maintains a big lead when it comes to empathizing with people facing economic problems. And he has a 10-point edge when it comes to handling "an unexpected major crisis," the first time the question has been asked this year…
If you need a warm-up for Wednesday's debate, I plan to live-blog the second Elizabeth Warren / Scott Brown debate at 7pm EDT tonight… unless or until moderator "Dancin' Dave" Gregory causes me to throw the monitor out the window.
What else is on the agenda for the official start of the week?