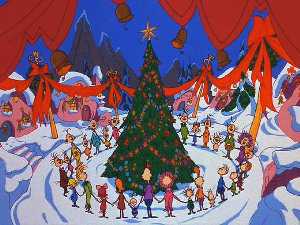 I'm in charge of holiday planning, prep and execution at my house. Not because of patriarchal oppression but just because that's how we choose to break it down (picking up dog turds in the yard, for example, is thankfully outside my bailiwick).
Well, Saturday morning, I woke up feeling nauseated and achy in every bone. My head was pounding, my nose was stuffy, and I had a hacking cough. I tried to eat something and ended up tossing my waffle. So even though I had a million things to do to get ready for Christmas, I made a nest of quilts on the sofa and stayed there all day and all night.
The dogs were happy to keep me company, what with a little cold snap we had (it's in the high 60s / low 70s, which causes my wimpy boxers to channel their inner Malamutes). I laid around alternately snoozing, watching TV and staring at the Christmas tree lights in a Nyquil-induced daze. I drank herb tea and munched a few soup crackers from time to time, which is about all I can keep down.
I didn't feel much better yesterday, and I still feel lousy now. I've been dragging myself from room to room, dusting furniture, sweeping, cleaning out the fridge, etc. I've pressed my kid into service more than I normally would to complete errands and assist with housework.
Mr. C always handles Christmas Eve dinner, so I'm off the hook for that, but I've got a slew of people coming by at various times today and tomorrow. I've got all the holiday meal stuff, but I have no idea where I'm going to find the energy to put the Christmas Day feast together and deal with a houseful of guests. My husband and kid are more than willing to help, but they'll just fuck up whatever I assign to them. I know that sounds terrible, but it's true.
There's no point at all to this post; I just felt like whining. Open thread!
[X-posted at
Rumproast
]