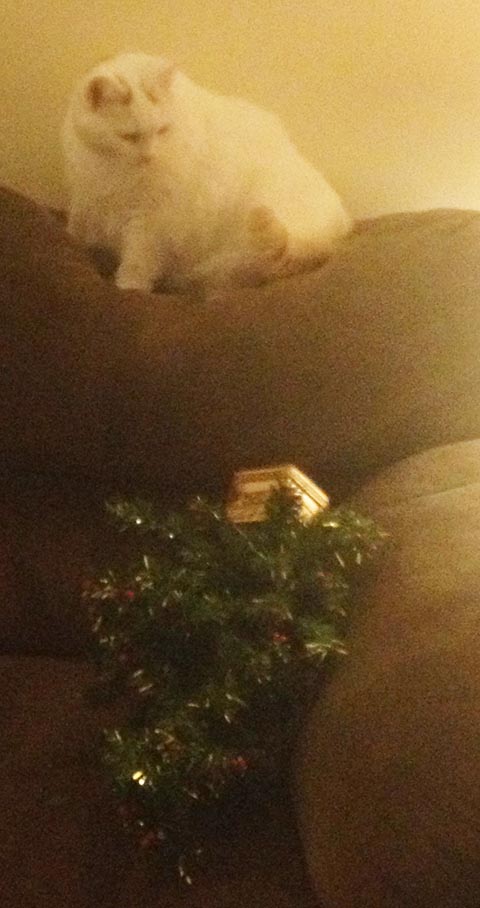 Tunch decided it was NYE and my pathetic tree needed to die. And so it did.
***
Just poured a nice scotch and am settling in to take in the night's festivities as I watch the waning minutes of the LSU/Clemson game, and I thought I would just thank you all again for another wonderful year. New Years Eve, as I have aged, has gone from a drunken bacchanal to a night of quiet reflection, and as I sit here typing on the laptop, in a fully heated house, a couple pets on my lap, a drink in hand, I realize I have it pretty good.
My family is all healthy despite my dad's best efforts to kill himself in a wood chipper, my dogs and my cat are in good health, I'm safe, secure, fully (OVERLY) fed, and comfortable. All in all, the end of the year inventory is good. I forget how good I have it, but I really do have the best life ever. I seriously hope the Buddhists are wrong, because there is no way that any rebirth will be as good as this.
As always, thanks again to you all. We have some amazing people writing here, most of whom are a helluva lot smarter than me, and we have an active and vibrant comments section filled with people who care about each other, even if this isn't meatspace. Over the last year, we raised over 15k for animal rescue, goodness knows how much for the Kenyan Socialist Muslim and other Democrats, and that doesn't include all the money we raised for other charities. Find me another website filled with generous, decent, caring people who selflessly help others the way you all do. I'll spare you the time. You can't.
So I will sit here in the last few minutes of 2012 and hope that 2013 is just as good and better. I realized earlier that Tunch and I have been together going on 11 years tonight, and I have Lily and Rosie on my lap. This is the good life.
I hope you all have a great night and a great 2013, and despite my attempts to put up an act about being an uncaring jerk, I really do love you all and wish you the best.
Happy New Year!
And yes, I take shitty pictures, as evidenced above. Eat a bag of dicks.