I went to the OFA organizing meeting in DC today. We're staying in Baltimore and the original plan was to just roam around among the crowd in DC for the inauguration tomorrow, but then we got tickets for the swearing-in and a ball and that all led to the OFA meeting.
Here are some pictures: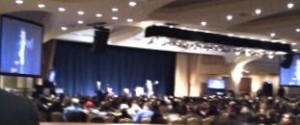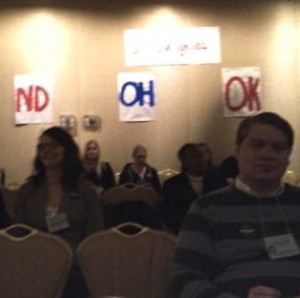 My usual impression at these Democratic political gatherings is that the people from southern states are the most enthusiastic and that was true in this room, too. The North Carolina contingent was really celebrating.
Here's the official description of the preliminary plan. I edited this some:
I'm Jon Carson, the new executive director of Organizing for Action…

And the way we'll get it done can be summed up in one word: local….
That means each city or region will have its own OFA chapter, and you'll decide the issues your community cares about most, the work you want to do to make progress on them, and the kind of support you'll need to get it done…
At a neighborhood and regional level, OFA members will grow their local chapters, bringing in new leaders and helping train a new generation of volunteers and organizers to help fight for the issues at stake.
There'll be times when we pull together at the national level to get President Obama's back on passing major legislation, like reducing gun violence or immigration reform. And we'll all work to help transform Washington from the outside while strengthening our economy and creating jobs.
But for the most part, the direction our work takes will be completely in your hands — with the support of this organization behind you every step of the way….
If I had to give you the one word I heard most often from the people on the stage as far as administration policy priorities the word would be "immigration." So Rick Santorum is wrong, again.
I don't know what I think about the OFA organizing plan yet. It takes me a while to figure these things out, so I'll just leave you with what Messina told the group this morning:
"We played too much of an inside game in 2009 and 2010 and got away from what we're good at."