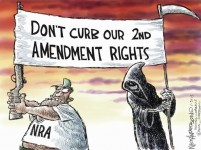 (Nick Anderson via GoComics.com – click link for full-sized image)
.
Benjamin Wallace-Wells, in NYMag, on "Adam Lanza's Arsenal":
If you ask gun-rights activists why Americans appear to be buying so many more firearms than was the case five years ago, they will usually give a sociological explanation or a political one. But when they explain why they themselves first bought a gun, they tend to describe something more personal. Often they will tell a story of a confrontation with violence and a specific terror that it left behind. One former national-board member of the NRA told me that he bought his first gun in the sixties in North Carolina, where he was working for a federal anti-poverty program, after he found himself chased down a nighttime road by hooded Klansmen. Another gun activist, a theology professor, told me about threats leveled against the institution and the compulsion he felt afterward to protect his students and fellow teachers. In one recent ad for Glock, an armed goon walks into a diner in order to rob it only to find the place filled with off-duty cops, each of them packing a concealed pistol. "Somebody picked the wrong diner," the man behind the counter says, so full of confidence he is nearly sneering. When gun owners talk about mastering a firearm for the first time, this is often the tone they end on, the new gun changing the balance of their confrontation with violence and restoring their conviction. The gun becomes a prophylaxis against fear….

…[T]he current popularity of the AR-15 seems to reflect a sense of instability that runs deeper than crime. The Harvard professor Edward Glaeser once wrote a paper explaining that people tended to buy the most guns in communities where the power of the state, and its ability to protect its citizens, seemed most distant, a category that includes parts of rural America and the poorest sections of the inner city. One way of viewing the vogue for assault weapons is that those geographic distinctions have now become states of mind. Farnam told me that among his shooting students, he could detect an amorphous anxiety, an "impending sense of doom across Western civilization," a sense that the economic collapse and the riots in Greece portended "something terrible."…

Nancy Lanza owned at least five guns. In the wake of the shooting, some of her neighbors told reporters that she had an affinity for weapons, that she was a gun nut, but the size of her collection wasn't so unusual. The average gun-­owning American household, according to a Harvard study, has about five. In these American collections are nearly half the guns in the world. They are expensive, precision pieces of machinery, rarely discarded or destroyed, and even as they change hands, it takes decades for them to begin to decay. One story gun-rights activists told me, proudly, was that during the Cold War, as Soviet generals were making plans for some final war, they ruled out invading America because of the sheer scale of guns and ammunition in private hands. I doubt this story is exactly true, but it's easy to imagine the Russian reluctance. We are talking about an astonishing mass of metal.

There is a perverse, escalating logic at work in the history of gun ownership in America, where the ancient fears of the nineteenth-century frontier survive in every long rifle, still functioning and lethal, and the legacy of every home­owner's fear of a break-in during the eighties is an ­idiot­proof Glock. The entry point into the current gun-control debate is that this existing collection will be left alone. "I'm not going to take away your guns," Barack Obama promised on the 2008 campaign trail, and even as Joe Biden has, since the Newtown massacre, urged strict gun-control reform, he has also been careful to point out that other weapons (a shotgun) would remain legal. Liberals know that any more aggressive intervention would be impossible, practically and politically. But it has meant that the existing store of 300 million or so guns will outlast the present reform effort—each of them being handed down through the generations, sold, stolen, stored away, waiting for the moment when it is required.