Marion Hammer, the ghoulish octogenarian who retired last year after four decades as the NRA's chief lobbyist in Tallahassee, is known primarily for the work she did to make Florida more violent and less safe. But despite being a bird enthusiast, I didn't know until I read a recent (paywalled) Orlando Sentinel column that Hammer also wielded her influence to stop legislators from changing Florida's state bird.
Yes, you read that right. In addition to amassing a nationwide body count with advocacy that inspired other GOP-controlled states to enact Hammer-like laws that loosened gun restrictions and encouraged vigilantism, Hammer has also controlled the state bird!
Over her interminable career as an NRA shill, Hammer developed a legendary grip on the wizened wedding tackle of statehouse Republicans. I think the only time she ever lost a fight was after the Parkland massacre, when MSDHS survivors shamed the GOP governor and statehouse into passing watered down and inadequate (but better than nothing!) gun safety laws over Hammer's loud objections and threats.
Currently, the state bird is the mockingbird, and every now and then, there's a call to change that because, while mockingbirds are delightful, they are not particularly associated with Florida. With an un-Florida-like official name, the Northern Mockingbird is found throughout the U.S. plus parts of Canada, Central America and the Caribbean. The mockingbird is also the state bird of several other U.S. states.
For the past couple of decades, Florida high school students have occasionally lobbied the statehouse to change the state bird to the Florida Scrub Jay, a bird that is found only in Florida. They are lovely birds, as you can see below. Scrub jays are also friendly critters — you can feed them by hand (though perhaps you shouldn't), and they'll land on your head if you make a handy vantage point.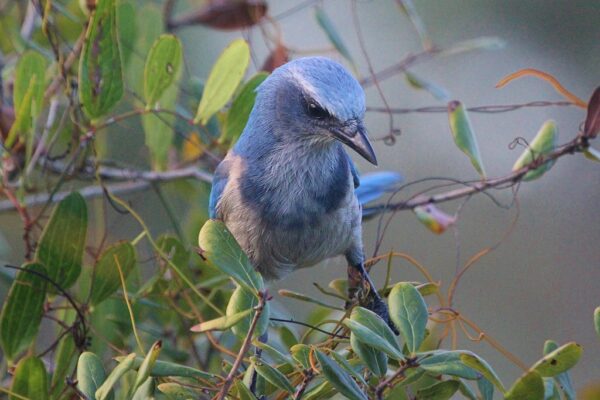 The students who want to make the change reason that in addition to scrub jays being endemic to Florida and therefore a more appropriate choice, state bird status might make Florida citizens more aware of the scrub jays' plight — the birds need protection because their species is threatened due to habitat loss — and encourage ecotourism.
But weirdly, Marion Hammer hates scrub jays. It's not that she just likes mockingbirds more, she actively despises scrub jays. We know this because over the years, she has relentlessly defamed the birds and said misleading things to compare scrub jays unfavorably with mockingbirds: