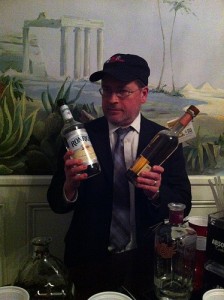 .
No matter how relentlessly mundane your Saturday night prospects, console yourself that you're not gonna be stuck boogeying with Grover Norquist. Dave Weigel reports on last night's CPAC festivities:
… Dennis Lennox, a Michigan Republican activist and fan of bespoke suits, crashed the press area of the ballroom to hand out invitations to his party, "By Invitation Only."

"Do you want a picture?" he asked. "I bet there's no one else at CPAC wearing tartan pants."…

By Invitation Only grew out of a schism between a few young conservative strategists who'd held CPAC parties in the past. Lennox had his party; Ali Akbar had his National Bloggers Club and its annual Blog Bash, co-sponsored this year by the National Republican Senatorial Committee and Rick Santorum's PAC. For weeks there had been rumors that left-wing activists would terrorize the event, literally. Four security guards were hired to protect the venue. They ended up protecting it from a confused guy with a digital camera, who was assiduously recorded by wary bloggers, until they got bored and got back to partying. Sen. Ted Cruz gave a 3-minute tribute to bloggers for taking down Dan Rather and creating a world in which Walter Cronkite no longer determined the headlines.

It went on for hours, dueling piano players bringing the crowd into sing-along renditions of "Don't Stop Believing" and "Poker Face." Those who survived were ready for a gauntlet of Friday parties, sponsored by political PACs who'd occupied ballrooms and given them themes. First up: The Zombie Party…

A smaller group, mostly media, were invited to an off-campus party up the road in D.C., put on by Breitbart.com and Newsmax.com. The walk-up was decorated by Mexican flags; to the right, as soon as one entered "the embassy," was a full, blaring mariachi band…
More photos and details, for the strong of stomach, at the link.
What's on the agenda for those of us in the Reality-Based Community, and also Balloon Juice?