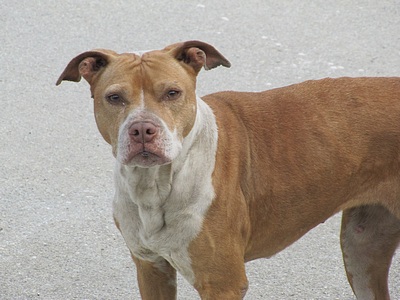 I've gotten more emails from the people trying to rescue Lucy. Basically, it's not a money problem that's endangering her, it's a space issue. Per Patty:
I guess details you have.. how to contact me (use my email) shelter location,where she is, only a matter of days, Eldad's support to cover foster care costs until FORTE can place Lucy into permanent home. The only thing getting in the way of her receiving medical care for necrotized wound is not money but a foster home who will help her through post-op recovery. FORTE needs to be notified when we have a prospective FOSTER. Unless Lucy receives this medical care, she is in ISOLATION in concrete cell, where she receives no people or dog contact. Without this socialization, she becomes less adoptable…
The dog we have come to know and love, Lucy, is at the WLA Animal Shelter Impound #1379706 (holding period of 7 days ended 3/28) needs to be rescued ASAP before she is euthanized, possibly as soon as 2-3 days from today. She is 45 lbs, spayed female and over 5 years old.

The shelter may be willing to give this dog only those few days due to a sore on her buttocks which needs to be treated. Eldad Hagar, of Hope for Paws org, has pledged to do any necessary surgery for the dog once she is pulled from the shelter. In addition, he will pay $1000 to that agency (as long as it is 501C-3).

The dog came to our notice on 3/20 that she was in the flood control channel, when we heard her howl at night, looking for her owners and a way out. She relentlessly ran back and forth in the channels for 3-4 days without a whimper. We were unable to leash her to safety, but during two attempts, although she seemed scared for her life, never growled or showed any aggression. The Mar Vista community pulled together. Two brothers in the area went down in the channel and finally blanketed and saved the dog. Once being placed gently in the trap the animal shelter had provided, the consoled dog ate from the rescuer's hand and allowed him to touch her teeth. The rescuer had saved another dog in the past and recognizes the trick the channels' acoustics play on animals – it is a very threatening place to be in and very understandable that the dog was fearing for her life. She is a survivor…

Now that she has been at the shelter for 7 days, she looks as if she has lost her spirit. She needs to be saved and be placed in a loving home.

This is urgent. She only has a few days.Can anyone help?
The West LA Shelter is at 11361 West Pico Blvd, phone #(888) 4LA-PET1 or (888) 452- 7381.
If you've got a lead for someone who can provide Lucy a safe place until she's ready for a new permanent home, send me an email at AnneLaurie (at) verizon.net — click on my name in the right-hand column — and I'll put you in touch with Patty.