Texas Gov. Rick Perry (R) said in an interview published Wednesday that shutting down the federal government in an effort to defund the Affordable Care Act isn't a "good option" for Republicans in Congress.
"I don't think it's a good option," Perry told ABC News' Jeff Zeleny. "There's still time to sit down and try to fix Obamacare."
Blah, blah, blah. Rick Perry has been Texas governor a very long time. He's a failure at health care. Before him, former President Bush failed at health care in Texas.
Perry, A Republican, he was elected Lieutenant Governor of Texas in 1998 and assumed the governorship in December 2000 when then-governor George W. Bush resigned to become President of the United States.
In all those years they couldn't do anything about the health care crisis in Texas?
Texas again has highest uninsured rate in nation
In addition to having the highest rate of people without health insurance in the nation, Texas also has the largest number of children without health insurance and the highest rate of poor adults without health insurance, according to 2012 American Community Survey estimates released by the U.S. Census Bureau late Wednesday.
More than 852,000 Texas children lacked health insurance in 2012, according to the ACS estimates, which are taken from a random sampling of households throughout the year.
Texas also had the highest rate of adults making below 138 percent of the federal poverty threshold — lower than $15,415 for an individual or $26,344 for a family of three — who lack insurance, at 55 percent. Those people would have qualified for Medicaid coverage if the state had chosen to expand eligibility under the federal Affordable Care Act.
In the 2014-15 biennium, Texas would have received $7.7 billion in federal funds, while spending $297 million to cover poor adults, according to Hamilton's estimates. Medicaid expansion would have cost the state six times less than the amount local governments and hospitals currently on uncompensated care for uninsured adults, according to Hamilton's report.
While Cruz and Perry run for President and give interviews and access to health care in their state gets worse every single year, things are looking a little brighter for the uninsured in Texas, no thanks to them.
Today my wife received the following letter.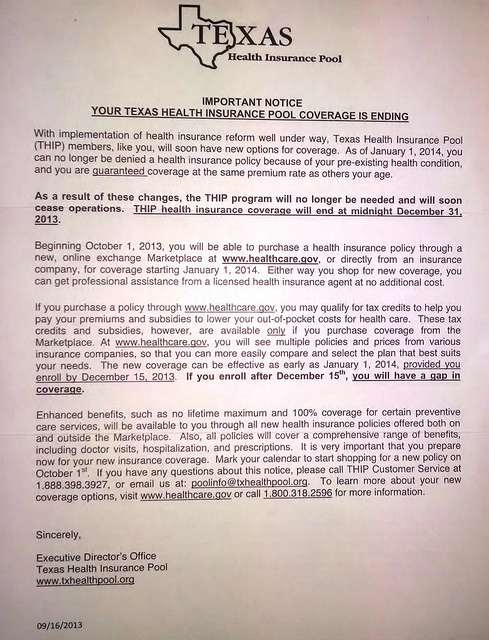 Important to note is that the letter correctly echoes the benefits of Obamacare for the millions in Texas and the United States with preexisting conditions. It correctly states that someone with a preexisting condition can no longer be denied coverage. It states forcefully (with an underline) that everyone is guaranteed the same rate given one's age. It also correctly states that many will qualify for subsidies.
The letter even goes further in promoting Obamacare. It correctly states that there are no more lifetime maximums (in other words insurance companies cannot stop paying up to some maximum; bankruptcies be gone). It correctly states that 100% coverage for preventative care is provided, and all policies now cover doctor visits hospitalization, and prescriptions. In other words charlatans can no longer sell worthless policies. Most importantly, the letter sends Texans to the correct website that will provide them accurate information instead of all the lies and misinformation provided in an orchestrated manner by the Republican Party. The misinformation and lies will directly cause the unnecessary deaths of many, mostly their own constituents and base.