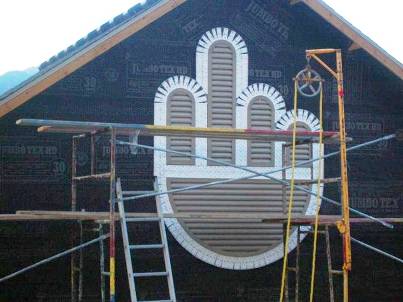 Via a comment link in a Slate-linked article, a… reply?… to Cole's post. When you're in Mormon Nice territory:
RIVERTON – Maybe it's a hand flipping the bird – or it could be a cactus.

For three families, it's just another dispute in a yearlong battle over a house being built along Reeves Lane in this southwest Salt Lake Valley community.

Owner Darren Wood described the vent covering placed Monday as decorative "abstract art" and a "cactus." But his neighbors uphill say it's a hand flipping them off.

"This kind of shows the attitude that we've been dealing with all along," said Stan Torgersen, who added that the gesture is visible from every window on the back of his house….
Haven't been able to find an update on the 2006 Salt Lake Tribune article, so I can't tell you if the Torgersens ever settled their beef with Mr. Wood.
What's on the agenda as we wind down on the weekend?