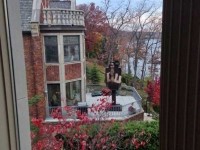 Alan Markovitz, 59, a well-known strip club owner in Detroit and soon-to-be reality television star on Cinemax, is still rather upset his wife apparently had an affair with someone he knew two years ago.

So he decided to buy the house right next to the couple, and put up a giant middle finger statue aimed in their direction. Spotlights on the 12-foot-high bronze statue make sure it can be viewed at all hours, according to Deadline Detroit.
Someone seems bitter.