Some nasty weather up here- frozen mix followed by snow and the roads are a hot mess even though there has only been about an inch and a half of accumulation because the rain froze underneath it. So there you go, all you guys with massive SUV's and pick up trucks with dual exhausts and "MAKE IT NASTY" or "BAD COMPANY" across the top of your windshield- sometimes an inch and a half is enough and you don't need to compensate.
I went to town and stocked up for supplies, and I've got a pork shoulder in the crock pot with kraut to make it through the blustery weekend, so I got that going for me. I also picked up enough dog and cat treats so I can make it a few days without being cut. Speaking of, here's a pic of Steve: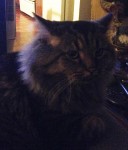 I can't state too often how awesome he is. He's always around me, and he just does crazy shit all day long. About a half hour ago, I was sitting here watching Homeland, and he came racing from the bedroom, streaked through the hallway and living room, and jumped from about three feet away and managed to hit the hole on his cat tree on the second level. It was awesome.
Speaking of Homeland, I'm working my way through Season 1, and this description on Comcast of an episode cracked me up in a sad kind of way: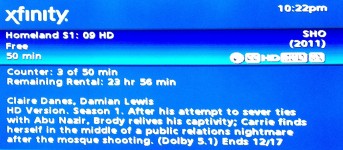 In the previous episode, the FBI had accidentally shot and killed two men at morning prayers in a mosque while chasing an alleged terrorist, and the way Comcast (and the show of most of America looks at it), the chief concern is the PR nightmare. Not the dead people or accountability. Art imitates life.
Same as it ever was; I was just willfully blind for a while.
/endramble
BTW- is Morena Baccarin the most beautiful human being on the planet or what? Thank you, Whedon.