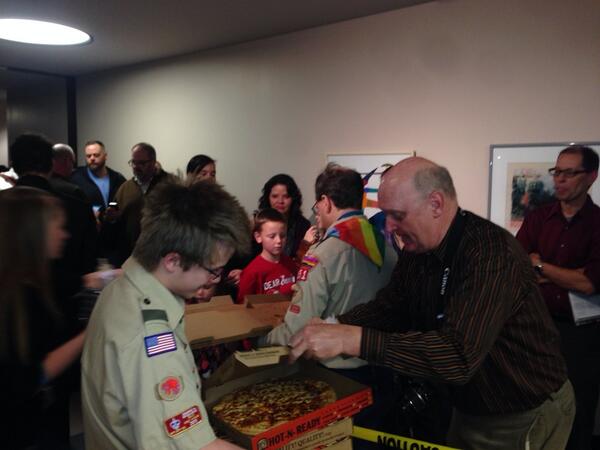 You might have seen this picture of a Boy Scout and his leader (in the rainbow kerchief) distributing pizzas at the Salt Lake County Clerk's office after Utah's ban on gay marriage was overturned. Here's the backstory on the leader, Peter Brownstein and his son Michael, an Eagle Scout:
As leader of Boy Scout Troop 351, he's long advocated for the Scouts to accept all boys and men into the organization. He was reprimanded last June for participating in full uniform in the Utah pride parade in Salt Lake City.

"We are very disappointed that you used Scouting to advance the gay agenda," wrote Bry Davis, council president, and Rick Barnes, Scout executive.

The United Jewish Federation of Utah, the sponsor of Troop 351, suspended all its activities in September. Executive Director Alex Shapiro said the federation does not discriminate against any groups. He said the troop was shut down because families of the Scouts felt Brownstein's focus had shifted away from their children.

"It is true that Troop 351 is no longer active, however, that was a decision that was made solely by the Scout families and did not involve the federation," Shapiro said.
In a few years when gay marriage is just "marriage", there's going to be a reckoning.  Rick Barnes and Bry Davis will be on one side of history, and Peter Brownstein will be on the other.
(via OTB)