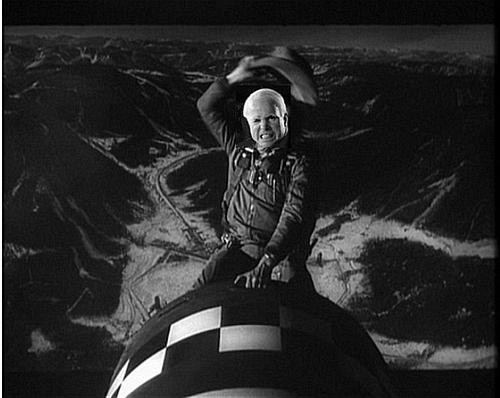 Looks like kicking Putin in the wallet is perhaps showing some dividends:
President Vladimir V. Putin of Russia called President Obama on Friday to discuss a proposal by Mr. Obama for a diplomatic resolution to the crisis in Ukraine, and the two leaders agreed that their chief diplomats should meet soon to explore it, the White House and Kremlin said.

In a statement from the White House, officials said that the telephone call from the Russian president followed a proposal presented by Secretary of State John Kerry to Sergey V. Lavrov, the Russian foreign minister, during talks at the Hague earlier this week.

While there was no immediate indication that either side was prepared to give ground, Mr. Putin's telephone call in itself appeared to represent a shift in tone aimed at defusing a serious rupture in relations and Russia's increasing isolation.
I'm sure Johnny MCCain will be on Beat the Press on Sunday to be fellated by Dancing Dave and bleat about bombings, but looks like cooler heads are once again prevailing.
Seriously, can we go all FDR and elect Obama a couple more times? Although he's probably smart enough to say fuck that.