Here is a picture of the man as we work our way through GoT to get ready for season 4: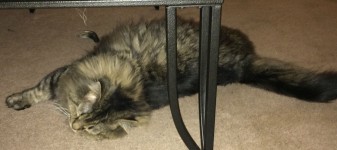 Yes, I know he is fat and I fully expect Ronnie Roo to yell at me, but you really just can not appreciate how big of a cat he is- he's the longest and broadest cat I have ever known. He's prolly 3-4 lbs overweight, but overall, he is just the biggest most glamorous cat ever.
His fur is so much different from Tunch. When you put your hands in deep into Tunch's fur, with his pudgy body and smaller frame and really short, but thick hair, it was like sticking your hand into a bunch of cotton balls. But with Steve, when you stick your hand and pet him, it is like petting muscular silk. It's so weird- his fur is silky smooth, but his build is so much more muscular and sinewy and his bone structure is just massive. His shoulders and haunches are just massive compared to any other cat I have ever known. Oh, and the snoring.
Since Shawn has moved in, I have also discovered that I am a shitty fixer-upper. On a daily basis, I get asked- "Why didn't you fix this? You have the tools and the parts," and the only response I have is "I'd probably hurt myself and I guess I didn't really notice it was broken. It wasn't on a computer screen or on a book or on my tv or a pet and it did not get in the way of cooking."
On the other hand, I am apparently the best cook he has ever met, so there is that, and we have really accomplished so much on the house. He notices shit, we fix it.
Self discovery. Sometimes it really sucks. On the other hand, I am the happiest I have been in years. So nice having a friend around who looks at things differently. Someone actually asked if it would be trouble with us living together under one roof, and we both laughed, because we lived together in a room the size of my kitchen with two bunks, a desk, and two wall lockers, and didn't kill each other, so I figger we will be ok in a big house with our own rooms and bathrooms.
Ahh, well, done rambling. Have a big day tomorrow checking out cars I won't buy.