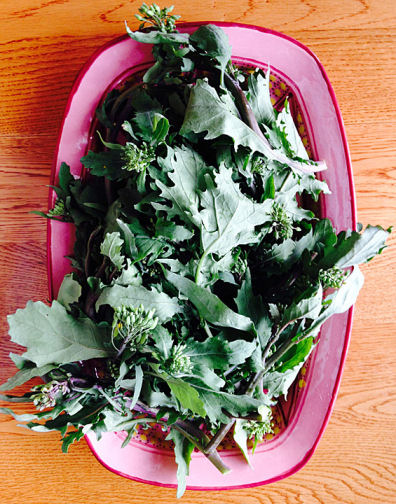 From faithful commentor Marvel:
We've ended the butt-sitting days of Winter and have starting the heavy lifting of Spring, including pulling out the tag-ends of some hearty plants we cared for & ate this past off-season.

As you know, after it's reached the lovely end of its long season, the
Winter Kale produces a glorious bunch of florettes which will soon
ripen into the blazing yellow flowers from which the next generation's seeds spring. These are a version of "rabe" that all brassica/mustard plants produce (you've seen broccoli rabe/rapini, yes?). We harvested the kale buds yesterday and had some saute'd over butter noodles this evening. Sure sweetens the sting of having to pull up these beauties tomorrow.

We'll see a few dry/warmish days ahead, so we'll be clearing out some Fall/Winter beds to make way for the New Ones.

Onward & upward!
***********
What's going on in your gardens this week?